Cryogenic Spiral Freezers from Linde Push Productivity Higher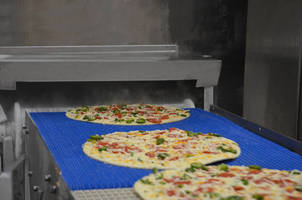 For par-baked goods, frozen pizzas, trayed foods, meat poultry products…



Murray Hill New Providence, N.J., U.S.  – Cryogenic spiral freezing solutions from Linde LLC can process a range of foods at high volume in limited space to maximize plant productivity. The portfolio includes proprietary designs that can deliver throughput to 20,000 lbs. per hour or more. 



Linde cryogenic spiral freezers are ideal for:



Baking: Crust-freezing or fully freezing par-baked goods, artisan breads, rolls, breadsticks, cookies /cookie dough, and pastries.

Prepared Foods: Fully freezing pizzas, pizza toppings and dough products, trayed foods and ready meals.

Meat, Poultry and Seafood: Quick-freezing poultry products such as chicken breasts, tenders and wings; diced and sliced meat and poultry; freezing meat and poultry patties and meatballs; and freezing fish fillets and other seafood products.



The Linde portfolio encompasses the patented CRYOLINE® XF (cross-flow) spiral freezer, the Linde immersion spiral freezer, as well as standard box spiral freezers.





The patented CRYOLINE XF spiral freezer, with a proprietary cross-flow pattern of cryogenic gas, delivers a rapid heat-transfer that will boost throughput and reduce operating costs vs. conventional cryogenic spiral freezers.



The Linde immersion spiral freezer combines high-efficiency nitrogen utilization with high-volume spiral freezing throughput to 20,000 lbs. per hour and higher.



Standard Linde box-spiral freezers provide high reliability, simple operation and easy maintenance. (Freezer models available with throughput to 15,000 lbs. per hour and higher.)



Pushing Productivity

Spiral freezers use a conveyor with a belt that travels in a vertical spiral, conserving floorspace and assuring efficient use of cryogen. Linde develops cryogenic spiral freezing solutions to meet plant requirements and line configuration that can quickly boost throughput, and provides on-site engineering support and maintenance programs to help maximize productivity as processing needs change.



For example, at Nation Pizza & Foods, LLC (Schaumburg, Illinois), Linde nitrogen spiral freezers have met production demands on a range of high-volume products for 10 years. Linde performs annual audits to monitor freezing processes and help ensure safe and efficient operation. To meet higher capacity demands within the existing facility for a premium national brand of frozen pizza, Linde collaborated with Nation to optimize the performance of the freezers for a lower cost per pound -- while maintaining quality.



Nation is one of the largest private-label frozen food manufacturers in the U.S. and, in addition to high-quality pizzas, its range includes toasted subs, panini, bruschetta, garlic toast and breakfast items. In the production process for the premium pizza brand, frozen specialty crusts are conveyed down the line and topped with refrigerated ingredients before they enter the Linde cryogenic spiral freezer.  



Operating at colder than minus 100°F, the Linde spiral freezer uses a direct spray of cryogenic nitrogen to ensure toppings are firmly frozen to the pizza and frost-free, before going out into final packaging. The hygienically designed spiral freezers feature a proprietary exhaust system that automatically ramps up or down with production to optimize nitrogen efficiency. After Linde optimized the freezer with Nation Pizza & Foods, production on the premium line was ramped up to achieve a substantial increase in volume in the same floorspace.



Linde offers a portfolio of hygienically-designed, state-of-the-art cryogenic freezers and chilling systems, attractive equipment rentals, and turnkey services. The Linde food team performs in-plant assessments and works with food processors to develop optimal solutions. For more information visit Linde (www.lindefood.com), or call: 800-755-9277.



Linde LLC supports the Global Food Safety Initiative (GFSI) and the advancement of food safety. Linde has a Food Safety Management System in place for all bulk carbon dioxide (CO2) plants and air separation facilities supplying the food & beverage industry in North America. In June 2012, Linde became the first supplier to certify all of its CO2 plants to a benchmarked GFSI scheme, FSSC 22000 (Food Safety System Certification).



About Linde LLC in North America

Linde LLC is a member of The Linde Group. In the 2014 financial year, The Linde Group generated revenue of  USD 17.9 bn (EUR 17.047 bn), making it the largest gases and engineering company in the world with approximately 65,500 employees working in more than 100 countries worldwide. The strategy of The Linde Group is geared towards long-term profitable growth and focuses on the expansion of its international business with forward-looking products and services. Linde acts responsibly towards its shareholders, business partners, employees, society and the environment – in every one of its business areas, regions and locations across the globe. The company is committed to technologies and products that unite the goals of customer value and sustainable development.



For more information, visit www.lindeus.com

Linde Contact:

Amy Ficon

Corporate Communications

908-771-1491, Fax 908-771-1460

amy.ficon@linde.com 



CRYOLINE is a registered trademark of Linde AG and Linde LLC.



575 Mountain Ave.

Murray Hill, NJ   07974

+ 800-755-9277

www.lindeus.com







More from Computer Hardware & Peripherals