Crude Storage Tanks Need Proper Maintenance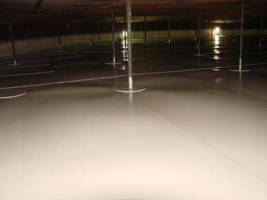 In an effort to promote the integrity of operating systems and prevent leakage, the oil pipeline industry uses an arsenal of sophisticated technologies capable of detecting defects and cracks on a millimeter by millimeter basis. Through ongoing inspections and regularly scheduled preventive maintenance of pipe interior and exteriors, as well as other ancillary equipment used in pipeline operations such as storage tanks, repairs can be made before major leaking occurs.

Among the challenges that plague storage tank interiors is the attack caused by nitrogen and hydrogen sulfide (H2S) present in crude and finished fuels, which can result in pitting on unprotected steel surfaces. Damage can also occur in the annular ring area of a storage tank that can result in water seeping under the chime area and corroding the floor. Corrosion of tank bottoms is a common maintenance issue that can require major repairs, as in the case of a 210-foot by 64-foot floating roof tank at a pipeline terminal in Sherwood Park, Alberta, Canada.

"When the tank was opened up for inspection, they discovered the annular ring had dropped nearly 10 inches," according to Don Hrehirchek, field services manager for the project's coating contractor ShawCor CSI Services in Nisku, Alberta. "The tank had extensive damage that required them to mud jack the outside of the tank, pour concrete underneath it and replace the annular ring. The project has taken more than six months."

After repair work on the floor was completed, interior steel was prepared by ShawCor CSI, in accordance with SSPC-SP5/NACE No. 1 White Metal Blast Cleaning to remove all rust, paint, oxides, mill scale and other foreign matter. An airless spray pump was used to apply a coat of Series 61 Tneme-Liner, a cycloaliphatic amine epoxy used for immersion service, including fuel storage. The lining is formulated to offer excellent corrosion and chemical resistance.

The project also received a coat of Series 330 Tank Armor, a thick-film reinforced epoxy lining for corrosion control and restoration of petroleum storage tanks. The coating can handle stress resulting from mechanical and physical forces exerted on the tank bottom. "An Xtreme Mix plural-component sprayer was used to apply the liner at a dry film thickness that averaged out to 34 mils," Hrehirchek noted. "The coating system was applied to the floor and about five feet up the interior shell. We controlled the environment with a 3.2 million btu heater and the work required two weeks to finish."

The applicators used 270 gallons of Series 61 and 840 gallons of Series 330, and Hrehirchek observed, "The owner was impressed with the appearance of the coating on their final walk through."

In addition to their work on the floor, Shawcor CSI crews replaced some panels on the floating roof, prepared them per manufacturer's guidelines and recoated them. They also blast-cleaned and recoated the vapor space. "This particular tank farm has about 20 tanks, ranging in size from 120 feet to 250 feet in diameter," Hrehirchek added. "Our crews are called to the facility regularly as part of its ongoing preventive maintenance program."

The tank farm has specified a Tnemec coating system for floating roofs and tank exteriors, according to coating consultant Norm Walline of HDIM Protective Coatings in Edmonton, Alberta.

Alberta's oil sands is the third-largest proven crude oil reserve in the world, next to Saudi Arabia and Venezuela. In 2009, the Alberta Energy Resources and Conservation Board (ERCB) estimated that Canada's oil sands deposits had remaining established reserves of 170-billion barrels. These reserves are found in three major regions in northern Alberta referred to as the Athabasca, Cold Lake and Peace River deposits.

The Canadian Energy Research Institute (CERI) has projected that oil sands production will reach 2.1 million barrels of oil per day (MMBPD) by 2015, and 4.8 MMBPD by 2030. In a report issued in May 2011, CARI projected, "By 2016, the additional export pipeline capacity could reach approximately 2.3 MMBPD of crude oil, on top of the current capacity of 3.5 MMBPD."

More from Agricultural & Farming Products