Crude Oil Analyzer incorporates chemiluminescence detectors.
Press Release Summary: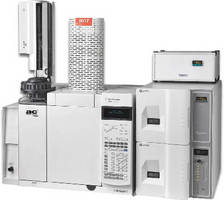 Built around recognized simulated distillation methods, AC Analytical Controls CNS SIMDIS for Crude Oil simultaneously determines boiling range distribution of carbon, nitrogen, and sulfur in crudes and final products. System is comparable to methods such as ASTM D2887, D6352, D7500, and D7169 standards, but minimizes time to complete crude assays. In addition to providing extensive reporting capabilities, integrated software automates calibration, validation, and data reporting.
---
Original Press Release:

PAC Introduces AC Analytical Controls® CNS SIMDIS for Crude Oil



New Analyzer Simplifies Crude Assays to Increase Lab Productivity

Houston, TX., USA - PAC, a leading global provider of advanced analytical instruments for laboratories and online process applications, announces the introduction of the AC Analytical Controls CNS SIMDIS for Crude Oil analyzer. It is the first instrument on the market to simultaneously determine the boiling range distribution of Carbon, Nitrogen, and Sulfur in crudes and final products, which is essential to cutting the crude oil to optimize the manufactured end product. It is also able to analyze a wide variety of crude products, including everything from heavy gas oils to naphtha.

The CNS SIMDIS for Crude Oil is built around recognized simulated distillation (SIMDIS) methods, but also incorporates additional Chemiluminescence detectors. It is comparable to methods, such as ASTM D2887, D6352, D7500, and D7169 standards; however, it completes crudes assays at a fraction of the time and cost as the traditional methods.

Its integrated software automates several aspects of the analysis process, including calibration, validation, and data reporting. With no prior software experience needed, the CNS SIMDIS for Crude Oil is easy to use and also provides extensive reporting capabilities.

"Even though analyzing crude assays is essential to refinery profitability, traditionally, it has been a time consuming and difficult process. We at PAC recognized this gap and wanted to introduce an instrument to the market that made crude assays simple to perform," said Daniel Benitez, PAC Vice-President Product Management. "By delivering an assay within 30 minutes, the CNS SIMDIS for Crude Oil provides an excellent tool to optimize crude oil blend processed in the refinery."

About PAC

With a product portfolio of over 200 instruments, PAC (www.paclp.com) serves industries such as refinery, petrochemical, biofuels, environmental, food & beverage and pharmaceutical. To provide its customers with cutting edge technology, PAC leverages significant R&D resources to support its core technologies, including chromatography, elemental analysis, physical properties and software applications. PAC's product portfolio includes AC Analytical Controls, Antek, Alcor, PetroSpec, PSPI, ISL and Walter Herzog. PAC is involved in business management services relating to marketing, product distribution, operations management services, logistics, reverse logistics, supply chain, product systems and distribution solutions. For more information, visit www.paclp.com, or contact the company's headquarters at 8824 Fallbrook Dr., Houston, Texas 77064, Tel. (U.S.) 800.444.TEST, or +281.940.1803.

More from Laboratory and Research Supplies and Equipment