Crucibles are suited for melting high purity metals.
Press Release Summary: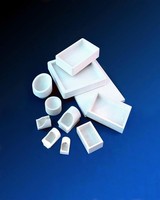 VX Crucibles operate under severe conditions including temperatures up to 1,450ºC and extreme thermal shock conditions. They offer thermal expansion of 6 x 10
-7
/°C at 1,000°C, low specific gravity, low thermal conductivity, and high electrical resistivity. Available in various shapes and sizes, products are suited for brazing, sintering, melting, and heat treating applications in dental, jewelry making, and metal brazing industries.
---
Original Press Release:

GBC Materials Offers Advanced Crucibles for Demanding High Temperature and Thermal Shock Conditions



Ideal for Dental, Jewelry Making and Metal Brazing Industries

The GBC Materials Division of Morgan Advanced Ceramics offers VX crucibles for melting high purity metals, such as gold, platinum and palladium. These crucibles are manufactured to provide durability, superior melt speed, and energy efficiency under severe conditions, including high temperatures up to 1450ºC and severe thermal shock conditions. The crucibles provide high performance across a variety of applications, including brazing, sintering, melting and heat treating applications in the dental, jewelry making and metal brazing industries.

Enduring severe thermal shock conditions that would typically shatter most conventional ceramic materials, VX crucibles are also well-matched for furnace and induction brazing, sintering and calcining of powders, and other processes that have rapid temperature changes. These crucibles offer extremely low thermal expansion (6 x 10-7 per degree C at 1000C) and provide low specific gravity, low thermal conductivity, and high electrical resistivity.

GBC Materials' VX crucibles are also known industry-wide as WESGO crucibles. The Wesgo Metals Division of Morgan Advanced Ceramics originally manufactured these crucibles, setting the industry standard and making the WESGO name synonymous with high quality and performance.

GBC Materials' VX crucibles are available in a variety of shapes and sizes. For more information please contact GBC Materials at gbcmaterials.sales@morganplc.com or 1-724-537-7791.

About Morgan Advanced Ceramics
Morgan Advanced Ceramics (MAC) has a comprehensive range of Ceramic materials, from which its products are manufactured. Supplying to a variety of demanding markets, MAC has established an enviable reputation for providing value-added solutions through world-class research and development, innovative design and, perhaps most important of all, application engineering.

As a subsidiary of The Morgan Crucible Company, MAC forms part of the Morgan Technical Ceramics Group. The Group includes Morgan Electro Ceramics and from manufacturing locations in North America, Europe and Asia, it supplies an extensive range of products, including ceramic components, braze alloys, ceramic/metal assemblies and engineered coatings.

For more information on Morgan Advanced Ceramics visit www.morganadvancedceramics.com or contact one of our sales offices below:

UK & Eire
Morgan Technical Ceramics, Bewdley Road, Stourport, Worcestershire, DY13 8QR.
Tel: +44 1299 872210 Fax: +44 1299 872218
Email: uksales@morganadvancedceramics.com

Mainland Europe
Morgan Technical Ceramics Sales, Teplitzerstr. 27, D-84478 Waldkraiburg, Germany
Tel: +49 8638 6004 326 Fax: +49 8638 6004 327
Email: eusales@morganadvancedceramics.com

North America
Morgan Technical Ceramics Inc, 26 Madison Road, Fairfield, NJ 07004, USA
Tel: 1 800 433 0638 Fax: 1 973 808 2257
Email: ussales@morganadvancedceramics.com

Asia
Morgan Technical Ceramics, 158 Jiajian Road, Jiading, Shanghai 201818, People's Republic of China.
Tel: +86 21 5990 0687 Fax: +86 21 5990 3241
Email: mmsh@sh163.net

More from Mechanical Components and Assemblies