Crown Equipment Picks Up Excellence in Ergonomics Award for Forklift Design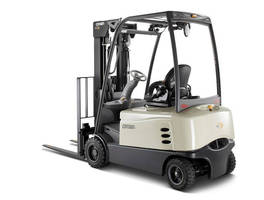 NEW BREMEN, Ohio - Crown Equipment Corporation, one of the world's largest material handling companies, recently earned the Excellence in Ergonomics award from the Fork Lift Truck Association (FLTA) for the Crown SC 6000 Series electric counterbalanced forklift.



Known as the "Archies," the FLTA awards are designed to encourage and reward examples of excellence throughout the forklift industry and, according to the organization's website, are regarded as one of the most prestigious awards presented in the United Kingdom. This year's winners were announced at the FLTA Awards for Excellence ceremony on February 27, 2016 in Telford, England. Steve Stewart, director European branch operations, Crown Equipment, accepted the award for Crown.



"Each of our finalists represents a significant advance in forklift development," said Peter Harvey, FLTA chief executive. "Through their efforts, they contribute to making operations safer, more efficient and more environmentally friendly for generations to come. We are delighted to recognize and reward their fine efforts."



The Crown SC 6000 offers a number of features that help improve operator comfort and performance in tough conditions, including new soft and hard cab options. The rugged design of the hard cabin and the two-way sliding, locking windows on the clear view doors improve operators' control of their working conditions. The soft cabin features an acrylic top and rear window and doors that can be rolled up or down as weather conditions change. A steer axle featuring robust steel construction and super elastic tires for use indoors and outdoors both increase the durability of the forklift while helping create a more comfortable ride.



"We are honored to be recognized with one of the most respected design awards in the world. As with all of our forklifts, the Crown SC 6000 is designed with the operator in mind," said Andy Smith, director, marketing product management, Crown Equipment. "Ergonomic features, such as the low step height of nearly 15 inches and generous head clearance, make it much easier for the operator to get on and off the truck. Every Crown forklift is designed to help enhance operator comfort, safety and productivity."



The frame of the Crown SC 6000 is equipped with heavy-duty, ¾-inch steel plate and I-beam mast rails that resist bending and twisting. The forklift, which also features steel-constructed steer axles and tough Crown-built drive units and AC motors, can support load capacities ranging from 3,000 to 4,000 pounds depending on the model.



About Crown Equipment Corporation

Crown is one of the world's largest material handling companies with a reputation for award-winning product design, advanced engineering and technology, and superior after-sale service. Crown's business philosophy utilizes vertically integrated processes to design, manufacture and distribute forward-thinking, innovative solutions that improve customers' productivity and operating efficiency. Crown produces a broad range of forklifts as well as automation and fleet management technologies.



The company's global headquarters is located in New Bremen, Ohio, USA, with regional headquarters in Australia, China, Germany and Singapore. Its employees number more than 12,000 worldwide. Crown operates a service and distribution network that exceeds 500 retail locations in over 80 countries. To learn more about Crown's ideas for helping customers advance the productivity of their operations, visit crown.com.