Crown Equipment Keeps On-the-Grow Urban Evolutions On-the-Go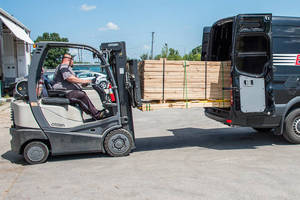 NEW BREMEN, Ohio – Urban Evolutions, Inc., a supplier of reclaimed building materials, fixtures and a line of accessories for homes and businesses, was in the midst of exponential growth and knew it couldn't afford downtime because of equipment limitations. The company tasked Crown Equipment, one of the world's largest material handling companies, with helping them be faster and more efficient. Today, the Crown C-5 Series is hard at work for Urban Evolutions making operators more comfortable, maintenance concerns virtually non-existent and boosting overall productivity by 75 percent.



Urban Evolutions' rapid growth put pressure on the company to move reclaimed materials into its outdoor storage yard and finished products out to meet customer deadlines. Handling truckloads of timber, reclaimed fencing and other heavy, often awkward loads quickly and efficiently was becoming a daily challenge. According to Lee Morey, operations manager, Urban Evolutions, pallet loading and unloading time was reduced on average from 10 minutes to 2.5 minutes by using the Crown C-5 series.



"Our productivity in manufacturing has changed by 75 percent, which is one of the big reasons why our second C-5 unit was bought right away," said Morey. He credits the Crown C-5 Series hard cab option with allowing the company's operators to work outdoors comfortably and productively through all four seasons. Since the Crown forklifts have gone to work, Urban Evolutions has also reduced overtime and lowered repair costs.



The company tried other forklift brands, but chose the Crown C-5 because of its agility and great visibility in all directions. The Crown trucks, which receive routine maintenance, are in constant motion moving heavy loads to storage, into the production shop or into the truck for delivery. Even the notorious Wisconsin winter snow hasn't slowed down these trucks.



"Winter weather in Wisconsin used to restrict our daily operations, but with the Crown C-5 with the hard cab, we can work in 90-degree heat in the summer and all day long in the winter, even in the snow," noted Morey.



For more details of how Urban Evolutions and Crown work together, visit the Customer Results section of the Crown website.



About Crown Equipment Corporation

Crown is one of the world's largest material handling companies with a reputation for award-winning product design, advanced engineering and technology, and superior after-sale service. Crown's business philosophy utilizes vertically integrated processes to design, manufacture and distribute forward-thinking, innovative solutions that improve customers' productivity and operating efficiency. Crown produces a broad range of forklifts as well as automation and fleet management technologies.



The company's global headquarters is located in New Bremen, Ohio, USA, with regional headquarters in Australia, China, Germany and Singapore. Its employees number more than 13,000 worldwide. Crown operates a service and distribution network that exceeds 500 retail locations in over 80 countries. To learn more about Crown's ideas for helping customers advance the productivity of their operations, visit crown.com.

More from Mechanical Power Transmission