Crown Equipment Helps Henningsen Cold Storage Boost Warehouse Productivity and Operator Comfort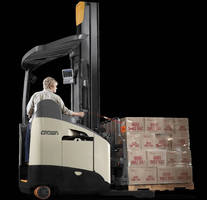 Crown RM 6000 Series reach truck and Crown PE 4500 Series rider pallet trucks withstand harsh operating conditions and helped the company increase productivity by 50 percent



NEW BREMEN, Ohio – When Henningsen Cold Storage, one of the largest warehousing companies in the United States, needed pallet jacks and forklifts that were robust enough to hold up in a refrigerated application and could store more product at higher heights, they turned to Crown Equipment Corporation, one of the world's largest material handling companies, for a solution.



When they build a new facility, Henningsen Cold Storage often pushes the envelope. The company determined the forklift for the new facility that would maximize the space in its freezer was the Crown RM 6000 Series reach truck. The truck's MonoLift® rigid mast can reach 505 inches and deliver up to 1,000 pounds more capacity at height. The truck is equipped with forks that travel upward at a pace of 160 feet per minute. By offering a clear window of visibility at height and eye level, the truck allows operators to move loads efficiently while reducing the risk of damage to product, racks and trucks.



"Our Hillsboro, Oregon, facility does huge volume - probably one and a half times what we had planned. The RM 6000 delivers," said Pete Lepschat, engineering services manager, Henningsen Cold Storage. "Other competitors couldn't get to the height and capacity that we needed. We wanted a heavier pallet higher and faster, and Crown was able to come out on top. With the Xpress Lower™ feature, if you start adding the lifting and lowering speed advantage you know you'll move more pallets in an hour. Those seconds make a difference in a day's time."



In the past, the company had trouble finding pallet jacks that were robust enough to hold up in a refrigerated application. Henningsen operators use the rider pallet forklifts for low-level order picking, as well as loading and unloading trailers on the dock. According to Lepschat, competitor trucks could not stand up to the tough, demanding environment and operator fatigue was an issue because of the constant maneuvering of the truck in tight spaces. The Crown PE 4500 Series rider pallet trucks feature the industry's largest, most powerful drive unit and up to 45 percent more steel than competitive models in areas of the truck that face constant stress and the highest risks of costly damage. The trucks are ergonomically designed to reduce strain and fatigue while allowing operators to accomplish more at a faster pace even in the most challenging environments.



James Lewis Jr., lift truck operator, Henningsen Cold Storage, said, "Compared to other brands of pallet trucks, the Crown PE 4500 is not as hard on your body. It's not as hard on your shoulders and hips. It keeps you loose and allows you to come back the next day and get the job done. You don't have to worry about your body hurting as much. Operating the Crown PE 4500 means I don't have to go home sore. I'm able to pick up my kids and play around at home."



More details regarding the Henningsen Cold Storage application and their use of the RM 6000 and PE 4500 are available on the Crown website.



About Crown Equipment Corporation

Crown is one of the world's largest material handling companies with a reputation for award-winning product design, advanced engineering and technology, and superior after-sale service. Crown's business philosophy utilizes vertically integrated processes to design, manufacture and distribute forward-thinking, innovative solutions that improve customers' productivity and operating efficiency. Crown produces a broad range of forklifts as well as automation and fleet management technologies.



The company's global headquarters is located in New Bremen, Ohio, USA, with regional headquarters in Australia, China, Germany and Singapore. Its employees number more than 12,000 worldwide. Crown operates a service and distribution network that exceeds 500 retail locations in over 80 countries. To learn more about Crown's ideas for helping customers advance the productivity of their operations, visit crown.com.

More from Agricultural & Farming Products