Crown Equipment Earns Third IFOY Award with RT 4000 Series Rider Pallet Truck Win in the "Warehouse Trucks Lowlifter" Category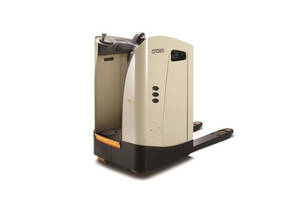 NEW BREMEN, Ohio (June 8, 2016) - Crown, one of the world's largest material handling companies, recently won the coveted International Forklift Truck of the Year (IFOY) Award for the third time. The Crown RT 4000 Series rider pallet truck took the prestigious award in the "Warehouse Trucks Lowlifter" category. The award was presented at the CeMAT trade fair in Hannover on May 31.



Over the IFOY testing period in February, the independent jury of internationally respected trade journalists was impressed by the customer benefits delivered by the RT 4020 stand-up rider pallet truck. The IFOY test report stated that "the Crown RT 4020 is ideal for users with very limited operating space who need high productivity. The pallet truck's narrow design is, for example, perfect for pallet put-away in very confined spaces. The transverse operator platform provides good visibility in both directions."



According to the jury, the deciding factor was the extremely high productivity in tight spaces. "A compact design for the level of performance, important ergonomic features and, in particular, a range of safety features are implemented into this machine in an excellent fashion."



The Crown RT 4020 stand-up rider pallet truck was launched in October 2015 with a load capacity of up to 2,000 kg. It combines rugged, powerful lift-truck technology with innovative safety features to deliver both responsiveness and reliability. Thanks to a chassis width of just 780 mm, its manoeuverability and performance is ideal for fast-paced dock work, even in very confined spaces. Designed and manufactured by Crown, the AC motor is capable of powerful acceleration at speeds of up to 12.5 km/h. For first-class ride comfort, the RT 4020 features a suspended floorboard plus a wraparound, soft-foam lean pad, and can be configured with right-hand or left-hand steering as required.



"For us, Crown's third IFOY Award for lift-truck technology is above all a further confirmation of our design approach, which consistently puts operators at the heart of the development process," said Ken Dufford, Crown Vice President. "Consequently, we have produced yet another high-performance, high-value product in the form of our RT 4000 Series, which delivers higher productivity and improved safety in the warehouse while simultaneously reducing costs."



In 2013, Crown took the top IFOY Award in the "Forklift Truck Solutions" category for the company's InfoLink® wireless fleet and operator management system. In 2014, Crown's QuickPick® Remote order-picking technology won the award in the "Warehouse Trucks" category.



About the IFOY Award



The aim of the IFOY Award is to identify and recognise the year's best material handling equipment and intralogistics solutions, and document the industry's performance capability and innovative drive. In doing so, the competition aims to enhance the public perception and competitiveness of the intralogistics industry as a whole, and has become one of the industry's most prestigious awards. The award is made annually by an independent jury of internationally reputed trade journalists.



About Crown Equipment Corporation



Crown is one of the world's largest material handling companies with a reputation for award-winning product design, advanced engineering and technology, and superior after-sale service. Crown's business philosophy utilizes vertically integrated processes to design, manufacture and distribute forward-thinking, innovative solutions that improve customers' productivity and operating efficiency. Crown produces a broad range of forklifts as well as automation and fleet management technologies.



The company's global headquarters is located in New Bremen, Ohio, USA, with regional headquarters in Australia, China, Germany and Singapore. Its employees number more than 12,000 worldwide. Crown operates a service and distribution network that exceeds 500 retail locations in over 80 countries. To learn more about Crown's ideas for helping customers advance the productivity of their operations, visit crown.com.