CRM Software suits small to medium size businesses.
Press Release Summary: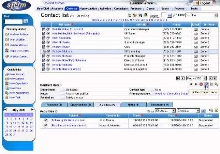 SFCRM business contact management software tracks sales and marketing efforts, from forecasting and following leads to closing sale. It also tracks current client needs, maintaining complete history of customer-related interaction, including enquiries, sales, and support. Software runs on standard Internet W3C compliant browser, and can be implemented on company network with purchase, or optionally as monthly subscription with co-located or hosted application.
---
Original Press Release:

sfaFinity Launches SFCRM Sales/Customer Relationship Management Software for Small to Medium Size Business at an Affordable Cost.


Santa Clara, CA, - sfaFinity launches SFCRM, a contact business management software for small single-user businesses to medium sized businesses up to 2000 employees. SFCRM is designed to be a "plug-and-work" solution, with installation in five minutes and complete implementation in sixty minutes when using one of our provided templates. Easy browser-based customization, requiring no programming or SQL knowledge, makes it affordable against competing products such as SalesForce.com, Siebel OnDemand, Microsoft CRM, Goldmine, ACT, and Telemagic. Different from these competing products, SFCRM requires no client software to access it, but relies on a standard Internet W3C compliant browser such as Internet Explorer, FireFox / Mozilla, Opera, Konqueror or Safari. Customers may choose to implement SFCRM in-house, on an existing company network with an outright purchase, or choose a monthly subscription with a co-located or hosted application.

Some of other key features are:

Simple Quick Installation Without Needing an IT Staff, generally installs in less then five minutes

Extreme Ease of Use, minimal learning curve for end users and administrators

Easily Tracks Sales and Marketing Efforts, from forecasting, following the leads to closing the sale

Tracking Current Clients Needs, maintain a complete history of customer-related interaction, including enquires, sales and support

Can Easily be Customized for Your Business / Industry Specific Needs, easily create new fields and remove ones not needed

Integrates Easily with Existing Programs and Hand Held Devices (PDA's), such as Outlook, MS Word, Excel, QuickBooks and Outlook CE

"We built SFCRM after hearing people complain about the cost, limitations and frustration of their current systems. We took on the challenge to develop an affordable, easy to use and deploy system which any business can do without using high-priced IT consultants." says Norman Dutt, COO, sfaFinity.

SFCRM is fully compliant to industry standards such as XML, W3CDOM, SQL 92, POP3/SMTP, IMAP, HTML 4.0 and Java 1.4, and is compatible with virtually all known hardware platforms, including Linux, Windows, MacOS/X, Solaris, AIX, HP-UX and all known flavors of Unix.

Pricing and Availability
The SFCRM Standard five-user suite starts at $1,295, with additional seats available at $299.

To obtain a trial download, please contact us at sfafinity.com/public/contactForm.html

About sfaFinity Inc.
sfaFinity, located in Santa Clara, California (Silicon Valley), specializes in SFA/CRM platform products and development toolkits that enable enterprises to deploy an integrated, cost-effective, reliable CRM system without requiring large investments in hardware and software. Their key products include SFCRM, the flagship CRM platform for small to medium enterprises, SFREALTA, a CRM package for real estate and mortgage companies, and SFRECRUIT, a relationship management system for hiring management and internal candidate tracking.

For more information please visit www.sfafinity.com

SalesForce.com, Siebel OnDemand and MSCRM are trademarks of their respective companies.

Any prices listed within this document are subject to change at any time.

FOR IMMEDIATE RELEASE - sfaFinity Inc., 1400 Coleman Ave.,Suite F21, Santa Clara, CA 95050 USA.Phone: (408) 654-0400 info@sfafinity.com CONTACT: Norman Dutt of sfaFinity Inc., Phone (408) 408-884-3812, norman@sfafinity.com

More from Machinery & Machining Tools