CRM/ERP Software offers role-based dashboard interface.
Press Release Summary: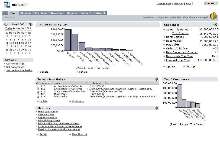 NetSuite v9.0 delivers intelligent and complete functionality that automates CRM, ERP, and Web operations for mid-sized companies. Designed with user-specific dashboard interface, software provides Xtreme List Editing, commission management and payment, and recurring billing features as well as matrix items. Additional offerings include complete UPS integration, integrated e-commerce, mail merge, activity tracking, searching, and report options.
---
Original Press Release:

Netsuite 9.0 Shatters Usability and Functionality Barriers


More Than Ever Before, an Online Integrated Suite Is the Best Choice to Run a Growing Business

San Mateo, CA and New York, NY - Sept.18, 2003 - NetSuite, Inc., today unveiled NetSuite 9.0, a major enhancement of its award-winning, flagship business application. With the addition of new features and enhancements, NetSuite 9.0 delivers intelligent and complete functionality that automates CRM, ERP and Web operations for mid-sized companies. Designed around a user-specific "dashboard" user interface, NetSuite 9.0 provides the real-time information and advanced functionality to meet complex and sophisticated business needs at a fraction of the cost of traditional software. Many of the features added to NetSuite 9.0, particularly new advances in the dashboard user interface, will also be available in the company's Oracle® Small Business Suite. The Oracle Small Business Suite name is used under license from Oracle Corporation (NASDAQ: ORCL).

NetSuite 9.0 adds deep functionality to every aspect of the product. As importantly, it supports new features that create the most advanced user interface of any business application - hosted or not - and builds business intelligence features into the core application. NetSuite 9.0 delivers many new "first and only features" including:

o First and only business application with built-in customizable dashboard views based on user roles. The patent-pending, role-specific dashboard includes a new capability that allows information "portlets" to be dragged and dropped anywhere on the user dashboard. Additionally, a new "Key Performance Indicators" portlet brings business activity monitoring front and center by allowing period-over-period performance comparisons.

o First and only Web-based business application with "Xtreme List Editing." While available in some desktop products, list editing has never been available in an online product. With NetSuite Xtreme List Editing, customized lists can be edited right from the user dashboard, without having to enter the actual record or form being modified.

o First and only mid-market product with commission management and payment.

o First and only mid-market solution with recurring billing. NetSuite tracks when the next bill is due and automatically creates it based on complex billing terms.

o First and only mid-market application with matrix items. Inventory items that are described by multiple attributes (e.g. shirts of different sizes and colors) can be automatically generated by NetSuite. There is no limit to the number of attributes that can describe a group of items, allowing thousands of inventory items to be created and coded in a matter of seconds.

o First and only online product with advanced features for product distributors including serialized inventory; pick, pack and ship; units of measure; bar coding; and quantity pricing.

o First and only application with complete UPS integration. NetSuite, Inc. is the first software company to receive the entire UPS shipping API, allowing the product to handle shipping like no other business application (see the accompanying release "NetSuite 9.0 First Mid-Market Business Solution to Integrate UPS Online Shipping").

o First and only ERP/CRM solution with integrated e-commerce. NetSuite 9.0 can generate a database-driven Website automatically; can host Web pages; and can draw on inventory data, pricing data and other information held in the application. Such data only need be entered once into NetSuite, and the Website is automatically generated and updated. As well, all orders placed on the Website automatically leverage the back-office processes (shipping, invoicing, customer-specific terms, etc.) as defined by the NetSuite users. Customer and vendor portals are also generated in the same way, allowing business-to-business transactions to be conducted with no additional programming or system integration.

In addition, NetSuite 9.0 adds a host of other features that ease transactions crossing departmental boundaries. Features such as mail merge, streamlined activity tracking, advanced searching, expanded report options, and easier customization will make more than 7,000 companies using the NetSuite family of products even more productive.

"NetSuite 9.0 shatters the myths about the capabilities of online products," said Zach Nelson, CEO of NetSuite. "Not only does NetSuite have the capabilities previously available only in incredibly expensive and complex software products, its user interface and single database approach also deliver that functionality much more easily and productively than traditional software products could ever hope to do."

"The most important customer relationship data - what a customer bought, how it was shipped to them, what a customer's terms are - are traditionally held in an ERP system," said Denis Pombriant, VP and Research Director of CRM at Aberdeen. "NetSuite 9.0 breaks the limitations of traditional CRM systems by integrating complete back-office and front-office systems in a single application. For the first time, midmarket companies can go from lead to sale to shipment to service without ever having to integrate data from disparate systems."

Small and mid-sized businesses have been forced to buy separate, and expensive, software packages to run their business - one for financials, one for order fulfillment, one for sales force automation, one for customer support. Then, they spend an even greater amount of money on the hardware to run the software, and on the resources to install the software, and on the effort to integrate data from those incompatible systems. Typical implementations run well over $250,000, and that is before factoring in the internal IT resources required to manage these complex systems and the ongoing software and hardware maintenance cost of 20 to 30 percent.

NetSuite eliminates this cost and complexity. NetSuite enables companies to manage all key business operations in a single, integrated system, which includes customer relationship management; customer support; accounting and payroll; warehousing and product assembly; Web store and Web presence; and employee productivity. In addition, NetSuite is delivered as an online service, so there is no hardware to procure, no large, up-front license fee, and no complex setups.

NetSuite also includes the most advanced customization capabilities of any application service. NetSuite's customization capabilities include a set of integrated, custom record creation and management tools - NetBase(TM). NetBase makes NetSuite completely extensible to the specific needs of each business, allowing the business to define its own custom data records with complex relationships between each other and existing records/transactions. Custom code can be added via industry standard JavaScript® to define specific validation and calculation behavior for custom fields. Additionally, NetSuite provides real-time, system-to-system XML data exchange capabilities allowing integration with other Web-based or legacy vertical applications.

Pricing and Availability

NetSuite 9.0 is available now, with an entry-level price of $4800/year for two users. Each additional user can be added for $75 per month. Existing NetSuite customers receive the new features at no additional charge to their current subscription.

About NetSuite

Founded in 1998, NetSuite, Inc. is a leading provider of ERP and CRM application software for small and mid-sized businesses. Formerly known as NetLedger, the company's products include the flagship products NetSuite and Oracle Small Business Suite as well as NetERP and NetCRM. The company is the largest application service provider of midmarket business applications with more than 7,000 companies having licensed its products. The company's products have won many prestigious industry awards, such as the PC Magazine Editors' Choice Awards in 2001 and 2002; PC World Best Bets 2001; PC World 2001 World Class Award; Forbes.com's Best of the Web 2001 and 2002; and Upside Hot 100 2002. NetSuite also provides enhanced, integrated solutions through its strategic partnerships including Oracle, (Nasdaq: ORCL), Yahoo! Inc. (Nasdaq: YHOO), HP (NYSE: HPQ) and VeriSign (Nasdaq: VRSN). The company's investors include Larry Ellison, StarVest Partners L.P., ADP and UBS PaineWebber. For more information about NetSuite visit www.netsuite.com.

Trademark

Oracle is a registered trademark of Oracle Corporation and/or its affiliates.

More from Optics & Photonics