Crimping Press attaches battery post terminals.
Press Release Summary: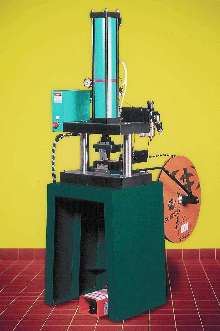 ETCO 15-ton Air-Operated/Hydraulic Press crimps heavy gauge product .060 in. thick or better, such as 12 V battery post terminals. It is offered with full range of universal post- and ring terminals supplied as strip on reels. Available with foot pedal actuation or dual anti-tie down palm buttons, press operates on standard shop air and accepts wide range of reel sizes. Machine includes heavy-duty frame, adjustment controller, and optional stand.
---
Original Press Release:

15 Ton Crimping Press Attaches Battery Post Terminals


A heavy-duty, air-operated hydraulic press for attaching battery post terminals and other thick gauge product used in automotive and industrial applications is available from ETCO Incorporated of Warwick, Rhode Island.

The ETCO 15 Ton Air-Operated/Hydraulic Press provides an efficient application process for crimping heavy gauge product .060" thick or better, such as 12V battery post terminals. Featuring a large bed area which accepts a wide variety of die set applicators, this press is offered with a full range of universal post- and ring terminals supplied as strip on reels.

Available with a foot pedal actuation or dual anti-tie down palm buttons, the ETCO 15 Ton Air-Operated/Hydraulic Press operates on standard shop air and accepts a wide range of reel sizes. It has a heavy duty press frame for rigidity, a press adjustment controller, and an optional press stand with a small footprint to easily fit into work cells.

The ETCO 15 Ton Air-Operated/Hydraulic Press is priced from $9,000. to $14,000., depending upon die set and configuration. Literature and price quotations are available on request.

For more information contact:
ETCO Incorporated
John J. Macaluso, VP Marketing
25 Bellows St.
Warwick, RI 02888
(401) 467-2400 FAX (401) 941-2453
e-mail:info@etco.com
www.etco.com

Related