Crestron Showcases Simple, Scalable, Secure Enterprise Room Solutions at InfoComm 2017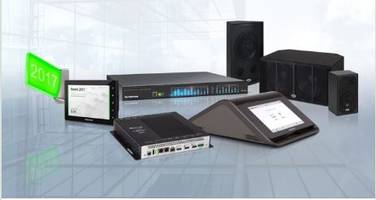 Show will feature several major new products including Crestron Mercury™ meeting solution and DigitalMedia™ NVX Series, the only secure 1Gb Ethernet network AV solution
Orlando, FL - June 12, 2017 - Crestron, a global leader in enterprise control and automation technology, will showcase several major new products at InfoComm™ 2017 in Orlando, FL, June 14 - 16, including Crestron Mercury, the tabletop meeting room solution, and DigitalMedia NVX Series, the only secure 1Gb Ethernet network AV solution. New enterprise-grade TSW room scheduling touch screens, the SSW Room Availability Hallway Sign, and Vector performance loudspeakers, designed specifically for larger spaces in the enterprise, will also be showcased. Demonstrations are available at Crestron Booth 1900 and Audio Demo Room 225AB.
Crestron Mercury
Crestron Mercury supports any web collaboration application already running on your device, or can be configured to run native Skype® for Business or the Zoom UX, so a laptop is not needed to make audio or video calls, only to share content. Crestron Mercury combines all the must-have conferencing and collaboration tools in one sleek, easy-to-use console, including open SIP conference phone, Bluetooth® connectivity, built-in wired and wireless presentation, remote room booking and onscreen calendar display, and occupancy sensor. Plus, Crestron Mercury offers easy enterprise-wide deployment and cloud-based provisioning and management.
DigitalMedia™ NVX Series
DigitalMedia NVX Series is the only secure network AV solution that delivers 4K60, 4:4:4, and HDR video over standard 1Gb Ethernet, plus USB 2.0 routing, built-in DSP, and all-in-one encoding/decoding at a price similar to competitive products that are not secure and have less capability. It provides an infinitely scalable network AV solution, from a simple point-to-point setup, to thousands of endpoints, and requires only DM® NVX Series Encoders/Decoders. DM NVX Series provides network security at the product level by leveraging standard network security protocols including 802.1x authentication, Active Directory® credential management, and SSH encryption.
TSW Touch Screens
The TSW-560, TSW-760, and TSW-1060 provide direct connectivity to scheduling platforms, such as Office 365®, Microsoft® Exchange, and G Suite. The same award-winning TSW control touch screens can also be used as sleek, high-performance room scheduling touch screens. Now, every touch screen inside and outside every room can have a consistent design. The new TSWs are enterprise-grade touch screens that connect to the network and leverage standard security protocols without the need for a control system or programming.
SSW Room Availability Hallway Sign
Finding a free meeting room in a Crestron powered enterprise is now even easier. With the SSW Room Availability Hallway Sign, office workers simply take a quick glance down the hallway. Wall mounted outside meeting rooms, the SSW LED light illuminates bright green to indicate an available room, and red to indicate an occupied room. The SSW offers direct connectivity to Crestron TSW touch screens via the included 15' USB cable and easy installation. The SSW is perfectly visible from up to 50 feet away and yet highly energy efficient, utilizing less than 2 watts.
Vector performance loudspeakers, Avia™ audio solutions
New Crestron Vector performance loudspeakers are designed for larger spaces in an enterprise, such as auditoriums, theaters, divisible rooms, and ballrooms. Offering nine models ranging from 8" - dual 15", they uniquely run self-tests that report room attributes back to managers, and are easily set up for optimal sound, clarity, and intelligibility using the Avia Audio Tool. The complete Avia product line will also be displayed, which now includes the AMP-8075 and AMP-8150 multichannel amplifiers, engineered to work natively with the groundbreaking Avia DSPs. Avia products make it easy to configure, control, and expand audio in commercial spaces.
Learn more
Crestron is demonstrating its new simple, scalable, secure Enterprise Room Solutions at Booth 1900 and Audio Demo Room 225AB at InfoComm 2017 in Orlando, FL, June 14 - 16.
About Crestron
At Crestron we build the technology that integrates technology. Our automation and control solutions for homes and buildings let people control entire environments with the push of a button, integrating systems such as AV, lighting, shading, security, BMS and HVAC to provide greater comfort, convenience and security. All of our products are designed and built to work together as a complete system, enabling you to monitor, manage and control everything from one platform.
Our products are backed by more than 90 fully-staffed offices that provide 24 x 7 x 365 sales, technical, and training support across the globe. In addition to its World Headquarters in Rockleigh, New Jersey, Crestron has sales and support offices throughout the U.S., Canada, Europe, Asia, Latin America, and Australia. Discover Crestron by visiting www.crestron.com.
Contact:
Ron Epstein
Crestron Electronics, Inc.
Phone: (201) 564-6047
More from Architectural & Civil Engineering Products