Crestron Launches DM-NVX-D80-IoAV with 1Gb, 4K/60 and IP Solution
Press Release Summary: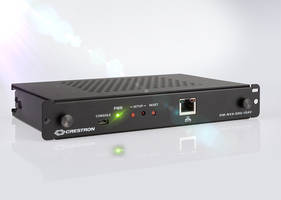 Features are interoperability, flexibility and reduces installation costs
Provides 4K video and delivers flawless image 1Gb, 2.5Gb, 5Gb, and 10Gb over any network
Capable of transporting audio, USB, control and ability to monitor, and control every display from one common location
---
Original Press Release:
Crestron Delivers Smart Technology Connecting Displays to the AV-over-IP World
Crestron transforms the most in demand commercial displays into native DM NVX™ endpoints with the help of Intel® and Open Pluggable Specification (OPS) technology
Orlando, FL – June 10, 2019 – Crestron, a global leader in workplace technology, is debuting DM-NVX-D80-IoAV at InfoComm®, June 12-14 in Orlando, FL. Crestron worked with Intel to deliver a native network AV solution for the biggest display manufacturers in the world: LG®, NEC®, Philips®, Avocor™, and Smart®. The OPS-based DM NVX network decoder can instantly transform a display into a native DM NVX endpoint. The DM-NVX-D80-IoAV is a plug-and-play solution that enables displays from the largest manufacturers in the world to deliver audio and 4K video across any network.
"Working with top talent at Intel®, we created a 1Gb, 4K/60, AV over IP solution based on Intel's open standard OPS slot," said Fred Bargetzi, Crestron CTO. "The DM-NVX-D80-IoAV drops into native OPS slots in the back of professional displays, adding enterprise-grade security and Crestron XIO Cloud™ management and provisioning based on Microsoft Azure® technology". 
Interoperability and flexibility were the key drivers in the design of the DM-NVX-D80-IoAV. The variety of OPS-supported displays allows for tailor-made solutions that fit any application. In addition, the form factor of the DM-NVX-D80-IoAV allows displays to be easily flush-mounted to the wall.
Simple deployment
The DM NVX decoder plugs into the OPS port and is powered by the display. This eliminates the need for messy cables and cumbersome power supplies, which reduces installation costs and provides a seamless integrated network AV solution. This smart technology also allows for integration with Crestron XiO Cloud™, an IOT-based platform that enables system deployment without programming with the ability to monitor, manage, and control each display from one centralized location.
Smart technology that sets a new standard in network AV
Responding to industry demand for standards-based AV over IP solutions, Crestron worked with the world's major brands. The DM NVX-D80-IoAV provides more than just distribution of flawless 4K video. DM NVX network AV is a complete, infinitely scalable solution that also transports audio, USB, and control. And now, with the new Pixel Perfect Processing technology, DM NVX is the only network solution that delivers a flawless image every time over any network (1Gb, 2.5Gb, 5Gb, and 10Gb).
Learn more
See a live demonstration of the all-new DM-NVX-D80-IoAV for yourself. Visit the Crestron Booth #1800 at InfoComm 2019, June 12-14.
About Crestron
At Crestron we build the technology that integrates technology. Our automation and control solutions for homes and buildings let people control entire environments with the push of a button, integrating systems such as AV, lighting, shading, security, BMS and HVAC to provide greater comfort, convenience and security. All of our products are designed and built to work together as a complete system, enabling you to monitor, manage and control everything from one platform.
 
Our products are backed by more than 90 fully-staffed offices that provide 24 x 7 x 365 sales, technical, and training support across the globe. In addition to its World Headquarters in Rockleigh, New Jersey, Crestron has sales and support offices throughout the U.S., Canada, Europe, Asia, Latin America, and Australia. Discover Crestron by visiting www.crestron.com.
Related