Creston Presents FT2 FlipTops with One-touch Cable Retraction at ISE 2019
Press Release Summary: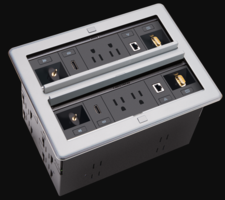 Bright – backlit symbols make it easy to find what you are looking for
Provides quality finish and modern design with 50% faster installation
Available in 40W fast charging USB-C and USB-A power options
---
Original Press Release:
Crestron FT2 Series FlipTops™ Revolutionize The Presentation Experience at ISE 2019
Next-generation FT2 FlipTops feature high-quality finishes and modern design; faster installation; one-touch retraction; modern USB power and charging
Amsterdam, The Netherlands – February 6, 2019 – Crestron, a global leader in workplace technology, will showcase its next generation FT2 Series FlipTops™ at ISE 2019. The new FT2 FlipTops fit into almost any standard cut-out and can be installed in half the time than most competitive products. Once installed, the new industrial designs sit flush on the surface and look stunning in any table or lectern. When presenting in a meeting, a single touch of the button on the FT2 FlipTop activates its door, which silently retracts and disappears. All connectors and cables are conveniently revealed at table-level to power, rapidly charge, and connect devices. A comprehensive line of accessories is available, ranging from retractors to international power modules. Crestron will be demonstrating the FT2 Series FlipTops in Hall-2, Stand C20 at ISE 2019, 5 – 8 February.
New Features:
Soft, smooth, and silent – push a button and the door silently retracts and disappears
Bright – backlit symbols make it easy to find what you're looking for
50% faster installation – sophisticated clamping mechanism swivels into place from above the table
Easy upgrade – fits in the same cutout as competitors' cable enclosures and the FT-600
Cable clutter solved – one-touch cable retraction
Modern power options – 40W fast charging USB-C and USB-A power
Beautiful design – black or alloy finish, no exposed screws or gaps
Flexible configuration options
Using the online configurator tool, it's easy to custom build the perfect FT2 FlipTop for any room or application.
Choose from five sizes to fit any need
Choose between black and alloy finishes
Choose the right connectivity: Active FlipTops are the perfect choice when you need to use powered accessories, other than AC outlets. Passive FlipTops meet the need for an economical, yet complete, cable management and connectivity solution.
Add accessories: shelves, shrouds, mounts, cables, and international power supplies
Learn more
Crestron is demonstrating the new FT2 Series FlipTops, along with its other solutions that meet the challenges of the modern workplace, in Hall-2, Stand C20 at ISE 2019, 5 – 8 February.
About Crestron
At Crestron we build the technology that integrates technology. Our automation and control solutions for homes and buildings let people control entire environments with the push of a button, integrating systems such as AV, lighting, shading, security, BMS and HVAC to provide greater comfort, convenience and security. All of our products are designed and built to work together as a complete system, enabling you to monitor, manage and control everything from one platform.
Our products are backed by more than 90 fully-staffed offices that provide 24 x 7 x 365 sales, technical, and training support across the globe. In addition to its World Headquarters in Rockleigh, New Jersey, Crestron has sales and support offices throughout the U.S., Canada, Europe, Asia, Latin America, and Australia. Discover Crestron by visiting www.crestron.com.
Contact:
Ron Epstein
Crestron Electronics, Inc.
Phone: (201) 564-6047