Crescent® Solid Joint Pliers. As Tough as They Come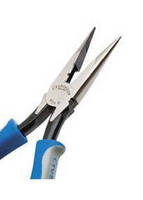 Crescent® brand Pro Series solid joint pliers are all about performance on the job. Forged from a special alloy steel with joints machined to extremely stringent tolerances, Pro Series solid joint pliers are made for the professional.

Cutting edges are laser-hardened for extremely long life and all feature polished heads that will stay looking new for the life of the tool.

Wide, co-molded grips feature firmer material in areas where control is critical and softer material at pressure points for added comfort. Available in multiple sizes and all popular configurations.

More from Explosives, Armaments, and Weaponry