Crescent Industries Explores the Advantages of 3D Printed Parts in the Injection Molding Process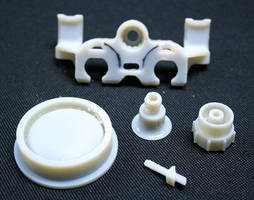 The remarkable breakthroughs offered by 3D printing have made a major impact on the injection molding process and industry. Also called "additive manufacturing", 3D printing produces parts through a material layering process.



Often used to prototype a product, this process can act as a final design proving - as well as a means to assess the final design. This means providing a simple method for verifying the testing, fit and functionality of parts before being injection molded.



Injection Molding Advances Use of 3D Printed Parts



The biggest advantage continues to be the ease this process allows for the physical testing of a design, which results in reducing your product's time to market. Parts that have thin walls and complex geometries - parts that are durable or even those providing a bridge-part function can all be 3D printed.



Mass production using 3D printing does include its challenges. Even though this additive manufacturing process can quickly produce sample parts at very low cost - the selection of printed plastics remains limited as well as the difference in surface finish and each part would have to be finished individually increasing labor costs.



Moving Your 3D Printed Parts into Major Production



When designers create a part for additive manufacturing with the intent to produce the product through the injection molding process a few things should be considered. First, design draft into the part, so when it comes time for injection molding you won't have to return to the CAD file and modify the design.



Also apply other modifications to include features specifically needed to reduce stress concentrations that apply both to 3D printing and injection molding. Some of these features include sharp corners and radii and ensure smooth changes from thin walls to thicker walls this will reduce the potential of warping for the injection molded part.



These changes are needed for smooth transitions and will prevent shifting to injection molding from becoming overwhelming.



Accomplishing the 3D Printed Parts as a Fully Functional Prototype



Because the 3D printed part can be used as a fully functional prototype, adjustments and errors can easily be made in the design phase - which means mistakes are discovered where it is less costly before moving those parts into the production phase. 



This process also provides a hands-on physical product to review, to get your product to look and feel the way you want.  It also delivers a way to get detailed feedback that helps guarantee your product's success.



The Expanding Role of Robotics for 3D Printed Parts and End-of-Arm Tooling



Robotics is now having a direct role by playing an expanding part in manufacturing. It has increased efficiency and accuracy for a broad spectrum of processes. One of the most significant functions is seen with the "end of arm tools" that essentially becomes the "hands" of robotic machinery.



The "end of arm tooling" does the work of grasping, pushing and moving. It makes them an indispensable part of today's manufacturing technology. Robotic arms can be a challenge to produce, however, due to the bulky nature of this part and the expensive nature of the implements, which take time and focus to both design and produce.



The 3D printed EOAT's can easily be customized. Every conceivable application can be incorporated to create unique features.   These features end up being lighter than those made with metal. This means the robot arm can move faster and carry bigger loads.  Weight reduction has also improved the motor efficiency while reducing your potential component wear and tear.  Also, 3D printed plastic end of arm tooling won't scratch the product they grip and can dampen impact forces. This means that tool crashes are far less likely to damage the robot.



These adaptations can be simple or complex as needed. This advantage also gives designers the freedom to create tools that are specific to its function. Design flexibility inherently provides the unique opportunity to optimize robot performance by using 3D printing.



For more expertise and information on 3D printing services and injection molding services, contact the professionals at Crescent Industries www.crescentind.com or call 717-759-0126.



More from Fasteners & Hardware