Creepfeed Wheels grind difficult-to-grind materials.
Press Release Summary: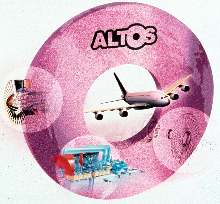 Manufactured with extruded ceramic aluminum oxide grain, Altos(TM) wheels have consistent, open structure for effective coolant flow and chip clearance. Extruded ceramic grain produces consistent grain spacing. Operators can increase infeed rates to achieve up to 50% greater material removal rates without burning part or causing excessive wheel wear.
---
Original Press Release:

New Creepfeed Wheels Achieve Cycle Time Reductions of up to 50 Percent and Three to Four Times More Parts per Wheel


-- Norton Altos(TM) Wheels Excel When Used to Grind Difficult-to-Grind Materials Such as Nickel Base Aerospace Alloys --

Worcester, Mass., May 22, 2002 - Norton Abrasives has introduced a new line of creepfeed wheels manufactured with extruded ceramic aluminum oxide grain. Called Altos(TM), these new grinding wheels represent a complete departure from the standard induced pore technology used to create wheels capable of high material removal rates with minimum heat Altos wheels are most effective where there is a large contact area between the wheel and workpiece, such as in creepfeed and gear grinding applications.

Existing porous grinding wheel technology relies on pore inducers to create the open wheel structure that is used to remove high levels of material during creepfeed grinding operations. Wheels made with pore inducers result in abrasive grain being grouped around open pores. This can lead to potential friction spots, reducing coolant access and chip clearance.

By using an extruded ceramic grain with high length-to-diameter ratio, Altos wheels achieve a more consistent, open structure for more effective coolant flow and better chip clearance than standard grinding wheels. Altos creepfeed wheels take grinding to new performance levels, reducing cycle time up to 50 percent and producing three to four times the number of parts per wheel.

The extruded ceramic grain with high length-to-diameter ratio used in Altos wheels produces more consistent grain spacing. The advantage of this innovative technology is more effective coolant flow into the grinding contact area. As a result, operators can increase infeed rates to achieve up to 50 percent greater material removal rates, without burning the part or causing excessive wheel wear. Improved form holding and reduced wheel dressing are additional benefits that can be achieved with Altos grinding wheels.

In a creepfeed grinding application of gas turbine blades made of Inconel 718, grinding time was reduced from 23 minutes to 12. Parts per wheel increased from 21 to 60. These grinding improvements were achieved versus a conventionally made porous creepfeed wheel using a Blohm Proimat grinder to remove 8mm on a fir tree root form.

Norton is a brand of Saint-Gobain Abrasives, a division of Saint-Gobain. Saint-Gobain, one of the top 100 industrial companies in the world, is a leading producer of abrasives, building materials, flat glass, insulation, reinforcements, packaging, pipe, ceramics and plastics. Headquartered in Paris, Saint-Gobain's annual sales approximate $27 billion. The company has 170,000 employees in 45 countries. In the U.S. and Canada, Saint-Gobain employs 28,000 people, and has about 200 manufacturing locations. Its total U.S. and Canada sales in 2001 were $6.4 billion. Saint-Gobain's web site is www.saint-gobain.com. The Norton web site is www.nortonabrasives.com.

Contact Barry Cole
Saint-Gobain Abrasives
508-795-5709
[email protected]

Barbara Wellnitz
Ryan Wellnitz & Associates
508-698-3374
[email protected]