Creative Proteomics Enhances Your Project with Cell Surface Proteomics Service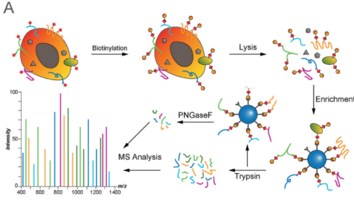 Creative Proteomics is an integrated CRO company committed to providing a full range of services in order to support various proteomic research projects, ranging from the identification of single proteins to large-scale proteomic studies. Based on its biotin affinity purification technology, the company has upgraded the cell surface protein purification and enrichment protocols to enable high-quality extraction of cell surface proteins for subsequent profiling.
Cell surface proteins perform vital functions for cellular function management and communication between the cell and cellular environment by transporting metabolites, ions, other solutes, and more. Moreover, cell surface proteins vary between different cell types, and specific cell types can be altered between normal and diseased states.
Cell surface proteins are involved in various important applications, i.e., distinguishing between cell phenotypes and disease states, developing prognostic and therapeutic targets, etc., because key biomarkers and potential drug targets of diseases are generally presented on the cell surface. Currently, approximately 70% of biopharmaceuticals developed target cell surface proteins, making the study of surface proteins particularly important and providing a potential avenue for new disease treatments.
Compared with intracellular proteins, the extraction of surface proteins from hydrophobic membranes and aqueous media usually results in low efficiency, not to mention the low abundance of surface proteins that hinder surface protein analysis. Therefore, Creative Proteomics has endeavored to investigate and address these issues by developing a platform for cell surface protein analysis.
"Equipped with the Q Exactive HF MS and Orbitrap Fusion Lumos MS platforms, we can provide professional and comprehensive cell surface proteomics services, including the entire workflow of cell surface protein extraction utilizing mass spectrometry to protein identification and protein quantification," said a senior scientist of Creative Proteomics.
"With the help of powerful bioinformatics and technologies, our technicians with rich analytical experience in the field of bioinformatics are excited to use various bioinformatics analysis tools to deeply analyze and mine data, realizing comprehensive potential biomarker screening," he further added.
State-of-the-art equipment, highly trained and experienced staff, as well as verified methodologies are utilized to enable the consistent and high-quality delivery of data with cost efficiency. Based on its highly experienced and knowledgeable scientific team in protein identification, Creative Proteomics can provide fast turnarounds, concise written reports, and comprehensive customized services to help resolve customers' analytical and technical challenges.
About Creative Proteomics
Creative Proteomics, a seasoned provider of proteomics, metabolomics, and bioinformatics services, is well equipped with advanced technologies in order to meet the increasing needs of scientists in proteome and metabolism research.
Contact:
Address: Shirley, NY 11967, USA
Email: contact@creative-proteomics.co