Creaform and Metrologic Group Announce Worldwide Partnership Agreement for Automated Quality Control Solutions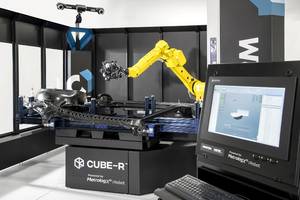 Metrologic Group and Creaform have entered into a partnership in which Creaform integrates Metrologic Group's software suite with its new CUBE-R™ 3D automated dimensional inspection solution. This laser scanning, all-in-one solution features Metrologic Group's advanced 3D measurement programming and inspection software packages, Silma and Metrolog X4 i-Robot, and combines efficiency and reliability of robotization in an automated industrial measuring cell.
The CUBE-R™ is an off-the-shelf, fully integrated, automated 3D inspection solution designed for manufacturing companies requiring automated quality control directly on the shop floor. It optimizes the MetraSCAN 3D-R™ metrology scanner with the use of Metrologic Group's robot-dedicated measurement software, Metrolog X4 i-Robot. The solution thus provides a flexible plug-and-play, alternative to coordinate measuring machines and other robot-mounted, structured-light 3D scanners.
Speed and volumetric accuracy
The CUBE-R™ extends the capabilities of the MetraSCAN 3D-R™ for the dimensional measurement of parts ranging from 1 m to 3 m with metrology-grade volumetric accuracy under real-life shop-floor conditions. Unlike conventional systems, the CUBE-R™ delivers both speed and volumetric accuracy, consequently insuring a significant increase in productivity.
User-Friendly, Easy to Operate
Integrating Metrologic Group's Silma X4 i-Robot and Metrolog X4 i-Robot, the CUBE-R delivers an array of benefits: The software calculates the most efficient positioning of the sensor and the best collision-free trajectories for the robot. The same software manages the optical 3D measurements, simultaneously provides advanced analysis of the results –even when computing huge point clouds–, and edits personalized, easy-to-understand reports. In short, Metrolog and Silma X4 i-Robot turn the CUBE-R™ into a simple automated measurement solution, easily operated by a non-specialist operator.
Multi-Benefit Solution
High productivity: Performs effective inspections on several hundred parts a day (even on dark or reflective parts with complex geometry)
Multitasking: Maximizes production cycle and throughput by simultaneously operating data acquisition and delivering analysis in a continuous and uninterrupted measurement flow
Most efficient 3D measurement programming and computing: Best-in-class measurement software suite, able to manage huge point clouds
Automatic field calibration procedure: No accuracy drift over time and continuous operation
Minimum operator training: Easy-to-use and short learning curve to keep up with fast production pace
Complete turnkey solution: No integration required, fully enclosed and shop-floor ready
Smaller factory footprint: A complete 4.1 m x 4.1 m x 3.1 m turnkey solution with a flexible shop-floor configuration
Metrologic Group is dedicated to developing the automated 3D metrology market through its X4 i-Robot platform, says Stéphane Auclair, Division Vice-President, Marketing & Product Management at Creaform-AMETEK. In addition to being recognized as world leader of dimensional metrology software, Metrologic Group is the only independent software partner to integrate robot path planning and simulation with other automation-type functionalities. Partnering with them for the commercialization of the CUBE-R was an obvious choice for us."
The CUBE-R™ is yet another illustration of the ability of the Metrolog and Silma X4 i-Robot software suite to control singly the most advanced 3D measuring solutions," says Bertrand Gili, President of Metrologic Group. "Combined with the CUBE-R™, our software suite brings advanced 3D inspection technology to the shop-floor and offers easy to program, easy to operate quality control routines for complex robotized inspection scenarios. It definitely sets a new standard in all-in-one laser line scanning robotized 3D inspection."
Additional content: Watch Creaform's CUBE-R™ video on YouTube.
Press Contact:
Alexandra Ortiz
Regional Marketing Manager
T: +1 855.939.4446 x 248
alexandra.ortiz@ametek.com
More from Architectural & Civil Engineering Products