Crawler Dozers feature hydrostatic steering system.
Press Release Summary: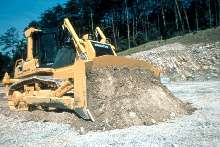 Models D65EX/PXIWX-15 and D85EXIPX-15 are mid-sized crawler dozers equipped with Tier II compliant SA6125E-3 engine. D65 operates with 190 hp at 1,950 rpm, while D85 pushes with 240 hp at 9,000 rpm. Blade capacities range from 4.8-7.34 yd3 for D65 and 6.8-9.2 yd3 for D85. Powered by independent hydraulic pump with engine power transmitted to both tracks, outside track is allowed to move faster than inside track for smooth, continuous turns.
---
Original Press Release:
Komatsu Upgrades Mid-Size Dozer Line with D65EX/PX/WX-15 and D85EX/X-15 Crawler Dozer
o Hydrostatic Steering System provides superior control in varying conditions o Spacious, quiet cab for supreme operator comfort VERNON HILLS, Ill. - July 3, 2003 - Komatsu America Corp. (KAC) introduces the D65EX/PXIWX-15 and D85EXIPX-15 crawler dozers - mid-sized crawler dozers well suited for work in small to mid-sized quarries, mining, construction and landfill applications. Both outfitted with Komatsu's strong, Tier II compliant SA6125E-3 engine, these dozers are powerful enough to handle varying conditions while lowering fuel consumption, and offer faster, more agile movement than the competition thanks to its Hydrostatic Steering System (HSS). The D65 operates with 190HP at 1,950 rpm and ranges in operating weight from 42,540 to 45,080 lbs., depending on the model (EX-15, PX-15 or WX-15). The D85 pushes with 240 HP at 9,000 rpm, is available in EX-15 and PX-15 models that weigh in at 61,735 and 60,740 lbs., respectively. Blade capacities range from 4.8 to 7.34 cubic yards with the D65 and 6.8 to 9.2 cubic yards with the D85. Outmaneuvering the Competition Komatsu's line of mid-sized dozers with HSS offer operators a machine with faster response to controls and quicker, more precise turning. Powered by an independent hydraulic pump with engine power transmitted to both tracks, the outside track is allowed to move faster than the inside track for smooth, continuous turns. Komatsu's D65 and D85 offer a reduced turning radius and the ability for counter-rotation under certain conditions, whereas competitive machines with conventional steering systems still rely on the back-and-forth method of turning. A larger steering pump and motor capacity allows for the minimum turning radius along with greater steering forces, ultimately keeping more material on the blade. Further aiding maneuverability, auto shift and auto down shift features monitor engine speed, travel gear and travel speed, downshifting when travel speeds are reduced to maintain optimum speed for efficient operations. Komatsu's Palm Command Control System (PCCS), new to the D65 and D85, is ergonomically designed not only to provide efficient operation, but also enhances operator comfort. The palm command travel joystick allows the operator to maintain a relaxed posture without sacrificing control. The blade control joystick utilizes the Proportional Pressure Control (PPC) valve, and when combined with HSS allows for fine control of machine operations. The transmission automatically adjusts each clutch engagement per travel conditions such as gear speed, revolution and shifting patterns through Komatsu's Electronic Controlled Modulation Valve (ECMV). ECMV provides smooth, shockless clutch engagement for improved component reliability, longer life, and a smoother ride for the operator. Operator Comfort The new hexagonal shape of Komatsu's dozer cab, designed with large, tinted glass windows, provides more room for the operator and expands front, side and rear visibility, increasing comfort and safety. Internal air pressure and air filters prevent dust from entering the cab, and new cab damper mounts suppress noise and vibration when travelling over rough terrain. A newly designed, fully adjustable suspension seat offers improved fore and aft sliding rails, while a new suspension spring provides increased strength and rigidity. The seat is also adjustable 15 degrees to the right for increased visibility during reverse operations. Convenient Maintenance - Guaranteed Reliability Knowing that preventative maintenance is critical for successful equipment upkeep, Komatsu has added an on-board, self-diagnostic monitor that alerts the operator to potential problems before they happen. When turned ON, the monitor displays items that require attention before the machine is started. If abnormalities are found, corresponding warning lamps blink and buzzers sound, both before and during operation, to prevent the development of serious equipment problems. The D65 and D85 feature conveniently located maintenance points for quick and easy inspection and maintenance. Transmission and HSS oil filters, power train oil level gauges and the hydraulic tank all are arranged on the right side of the machine. Access to the engine and critical filters is improved by gull-wing engine side covers. These side doors consist of a thicker, more durable one-piece structure to protect critical components. Other items aiding in maintenance efficiency and machine durability: o Longer intervals between engine and hydraulic oil changes (both over previous models and the competition), resulting in increased up time and productivity. o Power train components sealed in a modular design, allowing components to be mounted and dismounted without spillage. o Wet disc braking system, requiring less maintenance than conventional braking systems. o Improved track life through increased bushing diameter, link height and a lubricated track for minimized wear. Model Explanation EX models are Komatsu's standard dozers, outfitted with either a straight or semi-u tilt blade, drawback, counterweight or multi-shank ripper. PX models come standard with a straight tilt blade and signify "low ground pressure," allowing operators to work more efficiently on soft ground conditions than standard dozers. The D65 WX-15 is a wide track dozer, not available as a D85. Komatsu America Corp. (KAC) is the second-largest manufacturer and supplier of construction, mining and utility equipment and parts and services in North America. Visit Komatsu America's website at www.komatsuamerica.com.
More from Cleaning Products & Equipment