Crawler Dozer features infinite speed control.
Press Release Summary: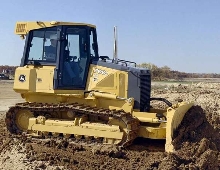 Model 700J utilizes PowerTech(TM) 6068T engine featuring wet sleeve cylinder design, electronic fuel control, and self-adjusting belt tensioner. Engine and transmission protection system keeps engine from operating at critical levels during warm-up. Dual path hydrostatic drive transmission provides power management system, live power turns, counter-rotation, dynamic braking, and automatic tracking control. Decelerator pedal decreases engine and transmission speed.
---
Original Press Release:

New John Deere Crawler Dozer Delivers Best Versatility and Value in Size Class


MOLINE, Ill. (March 16, 2005)--The new John Deere 700J Crawler Dozer features numerous design enhancements to deliver the performance and versatility needed to accomplish the toughest jobs.

"The 700J maintains the ideal balance, size, and versatility of the previous model, but we have added numerous features common in the J-Series lineup," said Brett Errthum, product marketing manager, John Deere Construction & Forestry Company. "These improvements increase machine productivity and uptime while decreasing the equipment owner's daily operating costs."

The J-Series machines continue to use the same engine as the previous line--John Deere's PowerTech(TM) 6068T. This engine features a simple wet sleeve cylinder design that provides improved cooling for longer service life; electronic fuel control for precision and increased reliability; a low rated engine speed for longer service life; a self-adjusting belt tensioner that reduces maintenance costs; and a coolant recovery system that simplifies maintenance. The oil change interval has been increased to 500 hours.

New to the 700J is the engine and transmission protection system that keeps the engine from operating at critical levels during warm-up. The new engine controller and transmission controller limit the range of throttle and transmission speed during the first few minutes after a cold start to extend component life.

The dual path hydrostatic drive transmission provides infinite speed control, a power management system, live power turns, counter-rotation, dynamic braking and automatic tracking control. The Speed-in-Grip (SIG) transmission control system, standard on J-Series dozers, features an increased number of user definable rates, allowing greater flexibility in tailoring the operating characteristics of the machine to the operator's preference. New adjustable items include a decelerator mode that allows the decelerator pedal to decrease engine speed and transmission speed, or transmission speed only for applications where power to the tracks and the blade is necessary during deceleration.

The transmission controller now will display the hours and miles of operation of the machine in forward and reverse, which can help the equipment owner understand and manage undercarriage wear. Thirty-three additional features allow technicians to quickly access on-board diagnostics without connecting a laptop computer. In addition, the transmission controller now monitors charge pressure and temperature, and limits functionality when critical levels are attained.

The decelerator pedal has been enhanced to improve machine control and match it to the operator's preference. The brake pedal found on previous machines has been eliminated, since deceleration and braking now are controlled with the decelerator pedal.

The cab and controls have several new features to improve convenience and comfort. Cab doors open easily with new pull handles, and a redesigned instrument panel and metal dash have backlit rocker switches. The engine speed now is infinitely controlled with a simple rotary dial, eliminating the need for the throttle lever, linkage and cable. The J-Series spring applied-hydraulically released park brake is controlled by the transmission electronic control system, and a new park lock lever reduces effort dramatically to increase ease of operation and improve operator comfort. A 12-volt power port is standard equipment for the operator's personal accessories.

Standard lighting on the J-Series includes two grille mounted lights and one rear light. Optional high intensity work lights include two forward lights located at the top of the operator's station and two additional rear lights located at the rear of the operator's station--this increased lighting option allows a machine owner to extend the workday beyond normal daylight hours.

"Dozers of this size are becoming increasingly more popular as contractors try to do multiple jobs with fewer machines. The 700J offers the best combination of large blade capacity and finish grading capability in its size class," Errthum said.

About John Deere: John Deere (Deere & Company-NYSE:DE) is the world's leading manufacturer of agricultural and forestry equipment; a major manufacturer of construction equipment; and a leading supplier of equipment used in lawn, grounds and turf care. Additionally, John Deere manufactures engines used in heavy equipment and provides financial services and other related activities that support the core businesses. Since it was founded in 1837, the company has established a heritage of quality products and services providing performance that endures to customers worldwide.

Key Specifications:
700J (Long Track LT/Extra Long Track XLT/ Low Ground Pressure LGP)
Engine 6068T, turbocharged, air-to-air cooled
Rated Power 115/123 hp (86/92 kW)
Transmission Automatic, dual-path, hydrostatic drive, load-sensing, oil-to-air cooled.
Typ. Operating Weight 25,800-27,900 lbs. (11 703 12 655 kg)
Blade Dig Depth 20-21 in. (508 -533 mm)

Related