Crash Test Accelerometer has high resonance frequency.
Press Release Summary: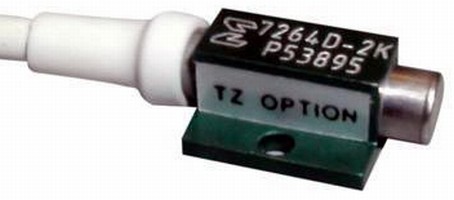 Suited for automotive safety testing applications, piezoresistive 7264D provides extended flat frequency range and resonant frequency over 40,000 Hz. It obtains true picture of input signal without inducing signal phase shifts that can interfere with data and result in hidden inaccuracies. Along with undamped, J211-compliant design, product features true ratiometric operation over excitation voltage range, optional connectors, multiple ID chip configurations.
---
Original Press Release:

Endevco Introduces High Resonance Frequency Accelerometer for Automotive Test Applications



Endevco Corporation, the leader in sensing solutions for demanding vibration, shock and pressure applications, today announced the introduction of its new 7264D High Resonance Crash Accelerometer, building on the company's reputation as the industry standard in piezoresistive accelerometers for automotive safety testing applications including vehicle barrier and sled testing and anthropomorphic test dummies.

The 7264D is based on the highly regarded 7264B and C series of transducers and provides an extended "flat" frequency range and resonant frequency of over 40,000Hz. This enhanced performance is proving invaluable to the increasing challenges faced by crash test engineers.

Automotive crash test events typically involve extremely short duration shock pulses, sometimes from hard metal-to-metal contact or mechanical fracture that may induce resonances in a sensor. The result can be saturation of the measurement system with a perceived temporary shift in the output signal. The Endevco 7264D, with a resonance characteristic well above the frequency range of interest, solves this problem and provides the truest measurement available.

In vibration and shock measurement, the widest possible frequency range is best for obtaining a true picture of the input signal. The 7264D delivers this performance without inducing signal phase shifts found in other competitive products which can "muddy" the data and result in hidden inaccuracies that may render expensive test data useless. Furthermore, data analysis can be complicated if sensors of different damping coefficients are used. By providing an undamped design with a high resonant frequency, the Endevco 7264D avoids these inaccuracies to reduce the risks and costs associated with repeating expensive tests.

"We are very pleased to have achieved this new level of performance in our accelerometer products for the automotive industry," stated David Bucka, Endevco Market Segment Manager, Automotive. "Our goal is to continually provide innovative solutions that help manufacturers maintain efficient testing operations and build products that maximize public safety."

By extending the useful frequency response well beyond what is currently available, the new Endevco 7264D accelerometer is designed to meet the current and future needs of the automotive safety test community. It is J211 compliant, maintains the un-damped characteristics desired by test engineers, and provides data records that are true and accurate over an extended frequency range. Additional features include true ratiometric operation over a wide range of excitation voltage, optional connectors, multiple ID chip configurations, industry standard cable lengths, and mounting accessories.

For further information contact:

ENDEVCO Corporation
Yeni Hoo, Senior Marketing Communications Specialist
Office: 949.493.8181
Email: yeni.hoo@endevco.com

ENDEVCO Corporation, a Meggitt group company, is one of the world's leading designers and manufacturers of dynamic instrumentation for vibration, shock and pressure measurement. The company's comprehensive line of piezoelectric, piezoresistive, ISOTRON® and variable capacitance accelerometers are used to solve measurement problems in a wide variety of industries including aerospace, automotive, defense, medical, industrial and marine. Available products include pressure transducers, microphones, electronic instruments, and calibration systems. Founded in 1947 with headquarters in San Juan Capistrano, CA, ENDEVCO has a global network of manufacturing and research facilities, sales offices and field engineers in the U.S., Europe and Asia. www.endevco.com

Meggitt PLC, headquartered in the UK, is an international group operating in North America, Europe and Asia. Known for its specialist extreme environment engineering, Meggitt is a world leader in aerospace, defense and electronic industries. www.meggitt.com

Related