Crankshaft Measurement Gauge provides submicron accuracy.
Press Release Summary: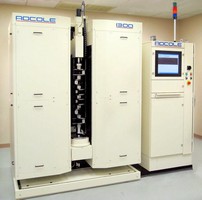 Model 1300 High-Speed Crankshaft Gage features powered tailstock and part driver to permit fully automatic loading. Capable of measuring diameters, roundness, cylindricity, timing angle, and stroke, it utilizes individual followers for rod and main journals and can achieve less than 1 min cycle times. It utilizes touchscreen and Windows XP® user interface and is offered in versions to accommodate crankshafts up to 1.0 m.
---
Original Press Release:

Crankshaft Measurement Gage Features <1 Minute Cycle Times, Sub-Micron Accuracy



A new high-speed, in-line automatic crankshaft measurement gage for production environments that provides sub-micron accuracy has been introduced by ADCOLE Corporation of Marlborough, Massachusetts.

The Adcole Model 1300 High-Speed Crankshaft Gage features a powered tailstock and part driver to permit fully automatic loading and is offered in versions to accommodate crankshafts up to 1.0 meters. Capable of measuring diameters, roundness, cylindricity, timing angle, and stroke with sub-micron accuracy, this in-line gage utilizes individual followers for the rod and main journals and can achieve <1 minute cycle times.

Designed for operating two or three shifts per day, the Adcole Model 1300 High-Speed Crankshaft Gage has a granite surface and incorporates the latest technology in controls, air bearings, and optical linear scales for end-of-line accuracy. Utilizing a touch-screen and Windows XP® user interface, application specific programs are offered to provide routines that can measure, calculate, and output printed as well as plotted results.

The Adcole Model 1300 High-Speed Crankshaft Gage is priced from $495,000.00, depending upon configuration. Literature is available upon request.

For more information contact:

ADCOLE Corporation
J. Brooks Reece, Vice President
669 Forest St.
Marlborough, MA 01752-3067
(508) 485-9100 FAX (508) 481-6142
e-mail: breece@adcole.com
www.adcole.com

More from Electrical Equipment & Systems