Crankshaft Grinder performs work of 4 separate machines.
Press Release Summary: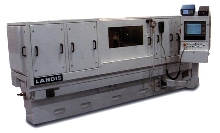 Crank Center(TM), with cubic boron nitride (CBN) grinding wheel, processes multiple shafts with different width pins or mains without tooling changes. Offerings include open-architecture CNC control, digital servo control, friction-free hydrostatic ways with linear motor drives, and chuck with integrated, extending work centers. Machine-mounted touch probe locates crankshaft radially and laterally.
---
Original Press Release:
New Multi-Process Landis Crankshaft Grinder Does Work of Four Separate Machines
Waynesboro, Pa., July 31, 2002 - Landis Gardner announced that it has developed a new versatile CNC grinder that is capable of processing all OD grinding operations on a crankshaft in one set up on a single machine. The highly flexible machine will grind main journals, pins, thrust faces, post, flange and oil seal diameters-operations that would typically require as many as four separate grinders. The new Landis Crank Center(TM) uses a single, narrow CBN grinding wheel to make multiple orbital-grinding passes and a final wiping of each eccentric-diameter crankpin. Thus, it is able to process multiple shafts with different width pins or mains without tooling changes. The first Landis Crank Center, installed at the technical development center of a major automotive manufacturer, is capable of grinding every crankshaft in the company's family of engines. While the new Crank Center grinder was originally conceived for low-volume production, Landis Gardner vice president of engineering, Russ Kaiser predicts that combining operations on one machine will be the industry trend in the future. "Manufacturers are dealing with an unpredictable market where volumes can change rapidly," says Kaiser. Also they want the ability to bring new products to market faster than ever before. So there is a real need for production flexibility. The Crank Center is the most flexible production crankshaft grinder yet developed. It can also protect against potential bottlenecks in a dedicated process." Consider a crankshaft grinding system for producing 60 jobs per hour. A traditional dedicated crankshaft grinding line would normally employ two CNC pin grinders and one multi-wheel grinder, which is a relatively dedicated machine, for grinding the mains. Should the multi-wheel grinder go down, production is completely halted. By comparison, a flexible process incorporating four CNC Crank Center grinders will produce the required 60 jobs per hour. But if any machine goes down for service, parts can still be produced at a reduced volume. In addition, the machines can be readily changed over to produce other crankshafts. Landis' extensive development activities in grinding with cubic boron nitride (CBN) grinding wheels are embodied in the new Crank Center machine. The accuracy and long grinding wheel life made possible by CBN grinding wheels are essential for obtaining the quality and productivity available from this highly flexible grinder. The new Landis Crank Center incorporates many advanced features that contribute to the machine's accuracy, performance, and versatility. For example, a powerful open-architecture CNC control provides unlimited part program storage capabilities. The all-digital servo control provides sub-micron resolution and axis moves. Friction-free hydrostatic ways with linear motor drives enhance stiffness, accuracy and speed. The new grinder features a unique chuck with integrated extending work centers that enables the grinder to process all diameters on the part. A specially designed long-stroke footstock with linear scale feedback is used to accommodate a range of part lengths. The flexibility for processing many different crankshafts is enhanced through the use of a machine-mounted touch probe that locates the crankshaft radially and laterally. Using the probe, the grinder identifies the location of rough stock and finishes the crankshaft appropriately. The grinder also incorporates a new in-process gage that accommodates both eccentric and concentric diameters and provides a wide measuring range without gage hardware changes. Landis Gardner, a member of the UNOVA family of companies, is a pioneer and world leader in the design and manufacture of precision cylindrical, centerless, and single- and double-disc grinding machines The company's Gardner Abrasives operations also designs and manufactures grinding and disc wheels. In addition, Landis Gardner's CITCO operation makes diamond and CBN (cubic boron nitride) grinding wheels, diamond dressing tools, and PCD (polycrystalline diamond) and PCBN (polycrystalline cubic boron nitride) cutting tools. Headquartered in Woodland Hills, California, UNOVA specializes in the design and integration of manufacturing systems, primarily for the global automotive and aerospace industries. The Company is also a leading supplier of automated data collection and mobile computing systems for industrial, distribution and government markets.
More from Architectural & Civil Engineering Products