CrankPro® System for Heat Treating Crankshafts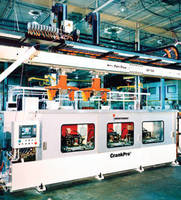 The CrankPro® system is a non-rotational induction hardening and tempering machine that utilizes advanced SHarP-C(TM) technology. SHarP-C(TM) technology eliminates the rotation of the crankshaft and movement of the inductor during heating and quenching cycles. This stationary heating method provides several practical and technical benefits; reduced floor space, simple operation, robust machined coil, low part distortion and minimal part growth. Other advantages include short heat times of <3secs and production rates of up to 120 parts per hour. Contact Inductoheat with any questions regarding your heat treating application needs.

Inductoheat Incorporated is one of forty companies making up the Inductotherm Group. As a multi-technology, global organization, Inductotherm Group serves the thermal processing industry by manufacturing and marketing a diverse range of products and services, all of which feature the characteristics of high quality, leading edge technology and top-flight engineering.


More from Electronic Components & Devices