Crank-Charge LED Flashlight does not use batteries.
Press Release Summary: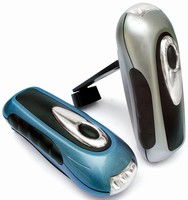 Emerge 'N See Light uses 3 ultra-bright LEDs to produce beam of white light, which is generated by cranking built-in handle. Thirty seconds of cranking provides up to 30 minutes of continuous light, and 2 settings, selectable via pushbutton, determine amount of emitted light. Featuring compact, heavy-duty construction, flashlight comes in metallic silver or metallic blue colors.
---
Original Press Release:

NTE Introduces Emerge 'N See LED Flashlight - No Batteries Required, Just Crank It Up!



Bloomfield, NJ --- NTE Electronics, Inc. has added a unique new super bright, crank-charge flashlight to its expanding line of lighting products. The "Emerge 'N See Light" is a flashlight that generates light anywhere, anytime with a simple twist of the wrist and crank of the built-in handle. No batteries are required. The flashlight uses three ultra-bright LEDs that provide a wide strong beam of white light and never need replacing! With a simple push of a button, the flashlight has 2 settings to produce the amount of light you need. The Emerge 'N See Light is ideal for emergency, home, auto, camping, fishing, and its small size allows for easy storage in a drawer, glove compartment, emergency kit or tool box.

Features:
· 30 seconds of cranking provides up to 30 minutes of continuous bright light
· 3 ultra bright white LEDs never need replacing
· Compact heavy-duty construction
· Easy to use
· Available in 2 metallic colors - silver and blue
· 90 day warranty

For further information on the Emerge 'N See Light, please visit: www.nteinc.com or call 800-631-1250 or 973-748-5089.

NTE remains committed to offer their customers the widest range of products with unparalleled service. The company supplies the highest quality private label relays, semiconductors, capacitors, resistors, hook-up and speaker wire, heat shrink tubing, and switches, along with such well known brands as: Vishay/Spectrol-U.K. potentiometers, trimmers and dials, P.E.C.-Canada potentiometers, KILO machined aluminum knobs and dials, Amphenol RF and Amphenol Connex interconnect products, Kester solder products, ECG® aerosol chemicals, butane/electric soldering & heat products, test equipment and surge suppressor outlet strips, Dialight optoelectronic products, Lightwave(TM) high intensity LED flashlights, Psiber CableTool(TM) multifunction cable meters, CML-IT optoelectronic products and Stancor power supplies, transformers and relays,

For complete product information, visit the website at www.nteinc.com. You'll have access to all NTE catalogs including technical specs and the extensive distributor network listings, as well as NTE's free download of the cross-reference software, QUICKCross(TM).