Crane offers knuckle telescopic boom.
Press Release Summary: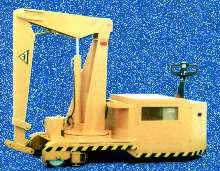 Able to access narrow aisles, self-propelled, counterweighted crane employs knuckle boom that can reach around obstacles. Variable solid state speed control ranges from 1 fpm up to 4 mph, and steering capability is 90° to each side. It picks up loads from between 18-200 in. from base, and can lift loads from 48" below ground level to 200" above ground level. Boom has double knuckle and telescopic sections. Available capacities vary from 1,000-20,000 lbs.
---
Original Press Release:

New Combination Knuckle Telescopic Boom on Reversible Boom Crane


With the development of the new Reversible Boom Crane (RBC) with Knuckle Boom combination ATI now offers one of the most versatile pieces of handling equipment in the industry. The very narrow tracks of the self propelled counterweighted crane makes it accessible in very narrow aisles and crowded areas. The knuckle boom can reach into nooks and crannies; over, under, above and beyond obstacles where no other piece of handling equipment could ever go before!

The self-propulsion is a variable solid state speed control that can go as slow as one foot per minute and then accelerate up to 4 MPH. The steering capability is 90° to each side, so that it can practically turn on a dime. The knuckle boom gives the RBC a whole new perspective allowing it to r each further and closer than ever. It can pick up loads as close as 18" from the base and reach out 200" from the base. It can lift loads from 48" below ground level, from pits, holes, or lower levels of a building and rise up to 200" above ground level.

The boom has double knuckle and telescopic sections. Lifting and telescoping action is all hydraulically operated. Available capacities vary from 1000lbs to 20,000lbs. Powered mast rotation is available as an option for additional versatility; mast rotation comes with telescopic outriggers for stability.

Another versatile option is the hydraulic powered cable winch. It can lower a load up to 100' below the hook into a man hole, to a lower level, or from the top of a building several stories high to ground level.

The unit is completely self-sufficient battery operated 24V DC with available battery charger. It provides smooth, quiet, and clean ergonomic operation. All the controls are push button on the control handle. Optional remote control pendant is available.

This is one of the most versatile handling tools for when a variety of different loads need to be lifted, articulated, and positioned, such as assembly work, machine loading, repair & maintenance work, construction, aircraft maintenance, etc. This unit is an ergonomic tool that will improve safety, take loads off workers' bodies and at the same time increase efficiency and productivity by saving time. If you could only have one crane in your shop, MAKE IT THIS CRANE.

For more information, please contact:

Air Technical Industries
7501 Clover Ave.
Mentor, OH 44060
Ph. 440-951-5191
Fx. 440-953-9237
Ati@airtechnical.com
http://www.airtechnical.com

More from Transportation Industry Products