Crack Detection System includes data analysis software.
Press Release Summary: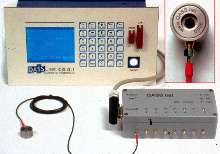 Model CiS.01 system is for monitoring cracks and breaks in operations and workpieces under mechanical load. System uses transducers and software to emit sound waves during straightening press phase of production so users can identify and eliminate cracked items. System features optimized electronic analog evaluation, suppression of product related noise, and selective frequency analysis. Serial and ethernet capabilities are TC/IP ready.
---
Original Press Release:
Cis.01 Crack Detection System for Real Time NDT Now Available in U.S. Markets

Arlington Heights, IL. (June 2003) - QASS Net announces the North American availability of its Model CiS.01 (QASSNet GmhB) system for monitoring cracks and breaks in operations and workpieces under mechanical load. Using a series of transducers and proprietary software it emits sound waves during the straightening press phase of production that enables users to identify and eliminate cracked items that might otherwise go undetected.

Initially developed and distributed in Europe, specifically for monitoring shaft straightening processes, the system is also adaptable to many other metal forming situations where cracks may occur during bending and cause substandard parts.

The system features optimized electronic analog evaluation, suppression of product related noise and selective frequency analysis. Its serial and ethernet capabilities are TC/IP ready and software is available to provide in-depth data analysis.

A solidly built, easy to mount sensor conducts full self tests of itself, its couplings, cables and circuits after each cycle. An external mount, compactly designed preamplifier can handle up to 8 independent sensors. And the 400HZ NEMA rated, 110 V main controller with a transformer rated at 90-260V, 47-400Hz provides complete statistical functions for process and quality management.

The CiS.01 system offers a very simple, very efficient and accurate way to quickly detect shafts that can't withstand the high mechanical loads they're designed for and eliminates the risk of having them accidentally built into gear boxes.

As with all other products, Schmidt backs its equipment with more than a century of industrial product marking experience, along with its direct sales force and 24/7 service support.

For more information contact QASS Net; 211 Prindle Ln; Arlington Heights, IL 60004; 847.259.8072; www.qass.net
More from Controls & Controllers