CR Scanner achieves up to 20 pixels/mm scan resolution.
Press Release Summary: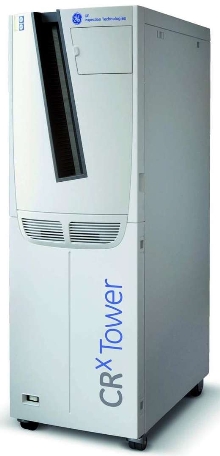 Used with x-ray and isotope sources, CRx Tower computed radiography (CR) scanner inspects multi-thickness and composite components. Its multi-film simulation pre-sets allow different thicknesses to be captured in one image, and data is communicated automatically from plant's maintenance database via Rhythm software. Used as in-house or mobile unit, product scans up to 45, 14 x 17 in. plates/hr and performs automatic handling, reading, and erasing of imaging plates.
---
Original Press Release:
Faster, Higher, Greater - The Outstanding Achievements of the New CRx Tower

Huerth, Germany, March 2005 - Faster scanning speeds, higher scanning resolution and greater throughput are just three of the benefits offered by the new CRx Tower computed radiography (CR) scanner from GE Inspection Technologies. Incorporating all of the acknowledged advantages of computed radiography over film radiography, in terms of faster exposures, wider latitude, fewer retakes and overall reduced materials and labor costs, the new scanner is the first CR system to achieve scan resolution, for certain formats, of up to 50 micron or 20 pixels/mm. It will find ready application in industrial NDT from corrosion monitoring in the oil and gas sector to castings inspection in the manufacturing environment.

The new CRx Tower can be used with X-ray and isotope sources to carry out many of the inspection tasks associated with conventional radiography such as weld inspection and inspection of concrete structures. It is particularly suited to the inspection of multi-thickness and composite components, as multi-film simulation pre-sets allow different thicknesses to be captured in one image, eliminating the need for a sandwich of different sensitivity films required in film radiography.

When combined with GE Inspection Technologies' Rhythm software and its embedded wall thickness software option, the new scanner is the ideal solution for on-stream inspection of pipelines for corrosion/erosion in petrochemical plants, oil and gas facilities, refineries and water treatment works and does not require the removal of insulation. Remaining wall thickness can be accurately measured tangentially, using a patent-pending semi-tomography algorithm, or by penetrating radiation measurement, using a density reference body.

There is no need to input physical pipe dimensions manually, as the data is communicated automatically from the plant's maintenance database by means of the Rhythm software, which also transfers measurement results back to the database, together with the exact measurement location to ensure that periodical inspections are precisely replicated. A mobile ID station allows inspection personnel to provide all the relevant data from the database at the measurement location using a hand-held computer. This computer programs a chip in the CRx Tower imaging plate cassette to ensure automated image acquisition and storage.

The mobile ID station reduces the requirement for manual data entry or transfer, and with it the risk of errors in the workflow in the factory and in the field. It can be programmed with a work list at a main workstation and before each exposure, the data associated with that exposure is copied from the ID station onto the cassette to be used. The cassettes are collected upon completion of the work and fed into the CRx Tower scanner, which can scan the image and the chip at the same time, ensuring that the information is saved with the exact parameters into the software database.

The new scanner finds equal application as an in-house and a mobile unit, as it can be easily fitted in a vehicle for transport between sites. It incorporates many of the successful features of the long-established CR Tower, such as the automatic handling, reading and subsequent erasing of imaging plates to ensure cassette lifetimes of up to 4000 scans, but offers faster scanning speeds of up to 45, 14 x 17in (35.6 x 43.2cm) plates per hour at high resolution. It complements GE's existing comprehensive range of computed radiography scanners and film digitizers and will be seen as the new "workhorse" of the technology.

About GE Inspection Technologies

GE Inspection Technologies is a global leader in technology-driven inspection solutions that deliver customer productivity, quality and safety. The company designs, manufactures and services radiographic, ultrasonic and eddy current equipment to test materials without deforming or damaging them. Its products are used in a wide range of industries, including Aerospace, Power Generation, Oil & Gas and Automotive. The company has 11 application centers around the globe and offers a range of services including repair, calibration, training and upgrades. GE Inspection Technologies has 1,000 employees at more than 25 facilities in 25 countries worldwide. To learn more about GE Inspection Technologies visit www.GEInspectionTechnologies.com.
More from Computer Hardware & Peripherals