CPVC Piping meets ASTM D1784, Cell Classification 24448.
Press Release Summary: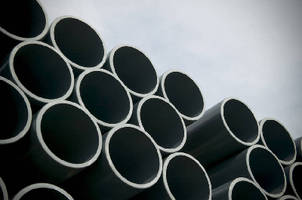 Designed for handling range of fluids, CPVC (Chlorinated Polyvinyl Chloride) Schedule 80 Pipe complies to ASTM D1784 Cell Classification 24448 and is optimized for impact resistance, tensile strength, and heat deflection up to 230°F. Chemical- and corrosion-resistant CPVC thermoplastic will not rust, scale, or pit and withstands temperatures up to 210°F. Offered in ½-12 in. sizes, pipe also meets requirements of NSF 14/61 and conforms to UPC/CSA requirements.
---
Original Press Release:
GF Piping Systems Introduces Higher Performing CPVC Schedule 80 Piping that Meets ASTM D1784, Cell Classification 24448
TUSTIN, Calif. - Aug. 27, 2009 - GF Piping Systems has announced the immediate availability of a new higher performing CPVC (Chlorinated Polyvinyl Chloride) Schedule 80 Pipe that complies to ASTM D1784 Cell Classification 24448. The new offering is achieved through compliance to a higher material classification under ASTM D1784, which is the Material Standard for PVC and CPVC extrusion and molding compounds. The Cell Classification within the standard is the rating system for the physical properties of each material. By manufacturing with the 24448 compliance compound, GF Piping Systems' CPVC Schedule 80 Pipe now offers improved impact resistance, better tensile strength, and higher heat temperature deflection characteristics up to 230°F (110°C). "Other manufacturers are currently offering CPVC Pipe with this material compound through 8-inch sizes - GF Piping Systems is the only manufacturer currently offering the 24448 classification in a full size range from1/2 through 12-inch," explains Gary Sample, GF Piping Systems Product Manager. "The new compliance to Cell Classification 24448 allows us to provide a superior product to the market and be a single source supplier for pipe, fittings, unions, flanges and threaded fittings for all needed sizes." Designed for handling a broad range of fluids, the CPVC Schedule 80 Piping System features high chemical and corrosion resistance to acids, alkalis, alcohols and other corrosives, offering a durable solution for a variety of industrial applications. CPVC thermoplastic will not rust, scale or pit and is extremely lightweight, making installation faster and easier and significantly less expensive that steel alloy or lined steel. The CPVC Schedule 80 Piping System can withstand higher temperatures up to 210°F making it well suited for use in hot water systems, hot acid distribution, and waste systems. In addition to the new ASTM rating, GF Piping Systems CPVC Schedule 80 pipe and fittings also meet the requirements of NSF 14 and NSF 61 as suitable for potable water and conforms to UPC & CSA requirements. GF Piping Systems supplies a full range of plastic pipe, fittings, tubing, valves, actuators, rotameters, fusion machines, secondary containment, tank linings, heat exchangers, custom products, and sensors and instrumentation for industrial process control. For further information, please contact GF Piping Systems, 2882 Dow Avenue, Tustin, CA 92780-7258; Toll Free (800) 854-4090, Fax (714) 731-6923; e-mail: us.ps@georgfischer.com; Web: www.gfpiping.com
More from Controls & Controllers