CPU Fan features barometric ball bearing technology.
Press Release Summary: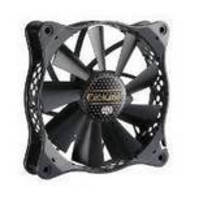 Measuring 120 x 120 x 25 mm, Excalibur utilizes BBB technology to maintain barometric pressure in center of fan. Unit has 3-piece frame with metal rim, 9 sword-shaped blades for optimal cooling efficiency, and triangular blade tips to minimize turbulence at fan edges. Honeycomb ventilation holes work as secondary intake to maximize airflow under low-speed operation. Rated at 12 Vdc, fan operates at speeds of 600-2,000 rpm with airflow of 26.4-85.6 cfm.
---
Original Press Release:

Excalibur - the First Barometric Ball Bearing Fan from Cooler Master



Cooler Master is racing ahead in the CPU cooling with innovative V-series and coolers that consolidate both value and performance. Now Cooler Master is set to apply revolutionary Barometric Ball Bearing (BBB) technology to the newly introduced fan - Excalibur. Excalibur combines innovative technology to generate superior air pressure with balanced airflow.

Barometric Ball Bearing (BBB) Technology

Barometric Ball Bearing is a uniquely advanced technology to maintain barometric pressure in the center of the fan. The benefits of BBB fans are longer life expectancy than traditional bearing fans, lower noise level and higher reliability. The blades can be easily removed for quick and easy cleaning.

Sword-like Fan Blades

Excalibur, as the name suggests, is inspired by the legendary sword of King Arthur from the middle ages. The nine massive sword-shaped blades are designed to produce exceptionally high air pressure, which fortify the cooling efficiency when used in dense water cooling radiators or performance heatsinks. Its triangular blade tips reduce turbulence at fan edges and decrease wind shear noise while keeping maximum surface area.

Robust Frame and Honeycomb Ventilation Mesh

The unique 3-piece frame with metal rim of the Excalibur provides a durable structure with a functional purpose. The honeycomb ventilation holes on the frame works as a secondary intake to increase airflow under low speed operation. At high speeds these ventilation holes help to reduce noise by releasing excessive turbulence and vibration. The metal frame adds a performance outlook while improving airflow and reducing blade noise.

Specifications

Fan Size: 120 x 120 x 25 mm

Speed: 600 - 2000 RPM ±10%

Air Flow: 26.4 - 85.6 CFM ±10%

Air Pressure: 0.75 - 3.53 mmH2O

Noise: 13 - 30 dBA

Bearing Type: Barometric Ball Bearing

Life: 100,000 hours

Voltage Rating: 12 V DC

Current: 0.45A Max.

Power Consumption: 6 W Max.

Weight: 127.8 g

Connector: 4 Pin

Accessory: Rubber screw x 4, Metal screw x 4

Rubber pad x 4, 4-to-3 Pin adapter x 1

About Cooler Master

Cooler Master was founded to provide the best thermal solutions to our customers worldwide. Since its establishment a decade ago, we continue to invest in product development in order to provide the leading-edge innovations to people and businesses. Cooler Master's enclosure technology line-up includes heat sinks and fans, chassis, power supplies, function panels and accessories. Cooler Master has its headquarters in Taipei, Taiwan, with global branch offices located in Europe, America and APAC, so that we can offer to our customers the best service in time. For more information on Cooler Master, please visit www.coolermaster.com.

More from Mechanical Power Transmission