CPU Coolers work with Intel® LGA 775/1155/1156 CPUs.
Press Release Summary: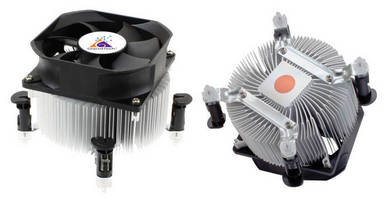 Optimizing cooling effect to components surrounding CPU to help extend working hours, Igloo i670CU Combo CPU coolers are constructed of aluminium alloy, feature high-fin density with Y shape, and come in constant fan speed and PWM versions. Latter increases fan speed with overloading of CPU and operates at 800 rpm ±300 rpm to 3,600 rpm ±10%. Constant speed versions are specified at 2,000, 2,600, and 3,200 rpm, all ±10%. Depending on model, 12 Vdc units operate at 20, 25, 32, or 15–38 dBA.
---
Original Press Release:

GlacialTech Unleashes Igloo i670CU Combo CPU Coolers with Intel LGA 775/1155/1156



-Compatible with CPU LGA775/1155/1156-



New Delhi, India - GlacialTech Inc., a diverse provider of cooling, power supply and PC enclosure solutions for consumer and industrial applications and a world-class provider of cost effective cooling components launches the latest Igloo i670CU Combo CPU coolers with Intel LGA 775/1155/1156. It is compatible with CPU LGA775/1155/1156. The unique design provides good cooling effect to the components around the CPU.



GlacialTech Igloo i670CU Combo with its technicalities is designed exclusively to reduce noise generated from the cooling fan. GlacialTech's products' three philosophies of price performance, noise performance and weight performance are available in Igloo i670CU Combo CPU Cooler.



GlacialTech comes out with a product that provides highest quality materials and cost- effective. The Igloo i670CU Combo CPU Cooler is light weight and consumes less electricity. GlacialTech is known for delivering reliable value to the customers through its varied range of products designed for different class of its customers. GlacialTech product Igloo i670CU Combo CPU Cooler with its unique design, light weight and cost effectiveness features increases CPU's long working hours. With Igloo CPU Cooler, one can work in a quiet and peaceful environment with optimal price performance benefit.



Highlighted features

• High Quality Aluminium Alloy

• High Fin Density with Y Shaped

• PWM Version: Fan speed increases with overloading of CPU

• Constant Fan Speed Version: The best price-performance

• Weight / noise performance

• Easy to install



Specifications

Model Igloo i670CU

Combo Silent(U) Igloo i670CU

Combo Light(U) Igloo i670CU

Combo(U) Igloo i670CU

Combo PWM(U)

Socket Type Intel LGA 775/1155/1156

CPU Compatibility LGA1155 / 1156

Intel® Core™ i3 Desktop Processor Family (73W)

Intel® Core™ i5 Desktop Processor Family (95W)

Intel® Core™ i7 Desktop Processor Family (95W)

LGA775

Intel® Core™2 Quad Desktop Processor Family (95W)

Intel® Core™2 Duo Desktop Processor Family (95W)

Dimension (mm) Ø90×67(H)

Weight (grams) 350

Fan Bearing Type Ultra Entering Bearing

Rated Voltage DC 12V

Dimension (mm) 80 x 80 x 25

MTBF (hour/25°C) 50,000

Speed(RPM) 2000(±10%) 2600(±10%) 3200(±10%) PWM 800(±300 RPM)~3600(±10%)

Airflow (CFM) 26 35.5 44.1 Max. 50

Noise (dBA) 20 25 32 15~38

Interface Material High Efficiency Thermal Compound

* Approved by CE & UL Certificate



Read more about this new product please visit at GlacialTech's website: http://www.glacialtech.com/products/Igloo_i670CUcombo.htm



About GlacialTech Inc.

GlacialTech Inc. is a diversified provider of cooling, power supply and PC enclosure solutions for consumer and industrial applications. Having established the strong relationships with thermal, SMPS and mechanism technology leaders worldwide, GlacialTech leverages world-class engineering, efficient manufacturing and highest-quality materials to provide its products with an optimal balance of performance and value. For more information about GlacialTech thermal technology, please visit the company homepage at www.GlacialTech.com



Media Contact:

Meenakshi

Alliance PR

09810577773

meenakshi@proalliancepr.com

More from Chemicals & Gases