CPU Coolers come in constant-speed and PWM versions.
Press Release Summary: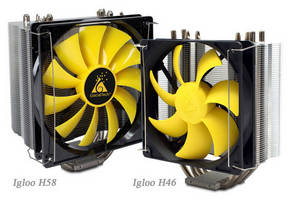 Constructed of aluminum alloy, Igloo H46 and H58 are designed to provide cooling effect to components around CPU and are available with Intel® LGA1155/1156 and AMD FM1/AM2/AM2+/AM3 sockets. Equipped with durable and silent bearing, PWM version increases fan speed proportionally to CPU load. Constant fan speed version is also available. Depending on model, noise ratings range from 18-33 dBA max, airflow varies from 39-65 cfm, and MTBF is 50,000 hr/25°C.
---
Original Press Release:

GlacialTech Launches Igloo H46 & H58 Series CPU Cooler



The time has come to start the sale of the first CPU cooler series Igloo H46 & H58

Two models are available from today. The coolers offer an excellent price-performance ratio and are equipped with a durable and silent fan. Compact, high-performance CPU Cooler maximizes CPU efficiency with aggressive heat dissipation and eliminates noise with expertly engineered fan blades.

New Delhi, India: - Igloo H46 & Igloo H58 is a simple name for a promising product, the first CPU cooler series from GlacialTech. The GlacialTech engineers have created a high-performance product. They focused especially on the optimisation of the air stream conduction inside the heat sink to reach more efficient heat dissipation. The result is a combination of two smart innovations that successfully reduce the thermal resistance of the Igloo H46 & H58 - a new milestone in CPU cooler industry.

Optimised Air Stream Conduction for Best Cooling Performance.

GlacialTech Inc., a diverse provider of cooling, power supply and PC enclosure solutions for consumer and industrial applications and a world-class provider of cost effective cooling components and chassis launches the latest Igloo H46 & H58 Series CPU coolers with Intel LGA1155/1156 and AMD FM1 / AM2 / AM2+ / AM3 sockets. The unique design provides good cooling effect to the components around the CPU.

As is usual, GlacialTech comes out with a product that provides highest quality materials and workmanship. The design is clear and functional. The manufacturer decided to waive all creative elements that may have negative influence on the cooling performance. Users can choose out of two different models. The attached PWM fan is certainly equipped with the durable and silent bearing. Price performance, noise performance and weight performance are GlacialTech's three principle design philosophies. Having acquired ISO 9001 and 14001, GlacialTech commits itself to use green materials for its product design and construction and to manufacture its products following green manufacturing processes only. As a total thermal solution provider, GlacialTech is committed to bring increased value to customers through the creation of light weight cost effective systems, and a quiet working environment with an optimal price performance benefit. The Igloo H46 & H58 Series are for your PC evolution to an ultimate light weight, low cost CPU cooler for your system.

Highlighted Features

High Quality Aluminum Alloy

High Fin Density

PWM Version: Fan speed increase with the increase of CPU loading

Constant Fan Speed Version: The best price-performance

Weight / noise performance

Easy to install

Specifications


Model         Igloo H46 Silent     Igloo H46 PWM    Igloo H58 PWM 

Socket Type      Intel LGA775/1155/1156/1366 and AMD FM1, AM2, AM2+, AM3

            - Intel LGA1155/1156

            Intel® Core(TM) i3 Desktop Processor Family (73W)

            Intel® Core(TM) i5 Desktop Processor Family (95W)

            Intel® Core(TM) i7 Desktop Processor Family (95W)

            - Intel LGA775

            Intel® Core(TM)2 Quad Desktop Processor Family (105W)

            Intel® Core(TM)2 Duo Desktop Processor Family (95W)

CPU Compatibility   - Intel LGA1366

            Intel® Core(TM) i7 Processor (130W)

            - AMD

            A4-3400, A6-3650, A8-3850 (100W)

            Phenom(TM) II X2, X3, X4, and X6 Processors (140W)

            Phenom(TM) X3, X4 Cores Processors (125W)

            Athlon(TM) II X2, X3, X4 Processor (95W)

Dimension (mm)         130 (W)×75 (L)×160(H)         147(W)×89 (L)×175(H)

Weight (grams)              560             840

     Bearing Type            Ultra Entering Bearing

     Rated Voltage               DC 12 V

     Dimension (mm)       120 x 120 x 25          140 x 140 x 25

     Speed(RPM)     1200   PWM 800(±300 RPM)~1600(±10%)  PWM 700(±300 RPM)~1400(±10%)

Fan   Airflow (CFM)    39          65 (max.)     60 (max.)

     Noise (dBA)     18          31 (max.)     33 (max.)

     MTBF (hour/25°C)             50,000

     Interface Material      High Efficiency Thermal Compound

About GlacialTech Inc.

GlacialTech Inc. is a diversified provider of cooling, power supply, and PC enclosure solutions for consumer and industrial applications. Having established the strong relationships with thermal, SMPS and mechanism technology leaders worldwide, GlacialTech leverages world-class engineering, efficient manufacturing and highest-quality materials to provide its products with an optimal balance of performance and value. For more information about GlacialTech thermal technology, please visit the company homepage at www.GlacialTech.com

Media Contact:

Krishna

Alliance Public Relations Pvt. Ltd

D - 1/14, Lower Ground Floor

Hauz Khas

New Delhi 110016

Cell No: 09899109396

e-mail id: krishna@proalliancepr.com

More from Architectural & Civil Engineering Products