CPU Board is based on T9400 45 nm Intel Core(TM)2 Duo processor.
Press Release Summary: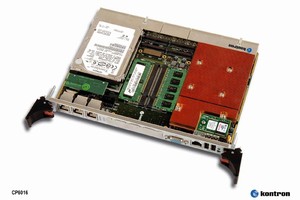 Providing up to 16 GB of registered DDR2 ECC SO-RDIMM memory, Kontron CP6016 rugged 6U CompactPCI® board features 2.53 GHz core speed, 6 MB L2 cache, and 1,066 MHz FSB. It comes with TPM 1.2 module for data and software protection, 6 SATA ports with RAID 0/1/5 functionality, 7 USB 2.0 ports, 2 RS232 ports, VGA and HDA interfaces, as well as 5 Gigabit Ethernet interfaces connected via PCI Express to meet requirements of communications applications.
---
Original Press Release:

Kontron Brings 45nm Dual-Core Intel® Processor to CompactPCI® 6U Boards



Pushing performance-per-watt barriers for CPCI systems

Eching, Germany, September 16, 2008 - The new Kontron CP6016 processor board sets new performance-per-watt standards in the high-end 6U CompactPCI® class for rugged RASM (Reliability, Availability, Scalability, Manageability) applications.

Based on the high performance and low-power 45nm Intel® Core(TM)2 Duo processor T9400, this latest Kontron CompactPCI® board excels over the previous 65nm Intel® Core(TM)2 Duo processor T7500-based board with up to 25 percent faster core speeds (2.53 GHz), 50 percent more L2 cache (6MB) and a 60 percent faster FSB (1066 MHz) with similar energy consumption.

"The 45 nm Intel® Core(TM) 2 Duo processor T9400 makes the Kontron CP6016 one of the most robust 6U CompactPCI® boards for RASM applications on the market," explains Norbert Hauser, VP Marketing at Kontron. "One special value adding feature is the ability to increase system performance while maintaining stable thermal design power or reduce system cooling investments without compromising performance."

"Multi-core processors such as the 45nm Intel® Core(TM)2 Duo processors and advanced technologies are completely changing the concept of threading in 6U CompactPCI® system environments without exceeding the thermal envelope " says Joe Jensen, general manager, Intel Embedded Computing Division, "We expect the new Kontron CP6016 6U CompactPCI® board with the Intel® Core(TM)2 Duo processor T9400 will help to address the requirements of security and communication applications."

Designed for densely packed, thermally constrained CompactPCI® systems that require outstanding performance in a typical 50 watt or less power envelope, the power-optimized Kontron CP6016 CompactPCI® CPU board enables out-of-band communication with all hardware components through IPMI (Intelligent Platform Management Interface). It thereby meets the highest standards for the management of high-availability applications and there is an onboard Trusted Platform Module (TPM 1.2) for data and software protection. This makes the robust Kontron CP6016 CompactPCI® board exceptionally attractive to multiple markets, including highly sensitive, security-relevant telecom and datacom applications. Bandwidth intensive image processing, multi-media and test and measurement applications will also benefit from the impressive 6MB of L2 cache and up to 16GB of registered DDR2 ECC SO-RDIMM memory.

For maximum application flexibility the Kontron CP6016 CompactPCI® CPU board comes with an extensive range of interfaces: 6x SATA ports with RAID 0/1/5 functionality for enhanced data security, 7 x USB 2.0 ports, 2 RS232 ports, VGA and High Definition Audio (HDA) interfaces as well as 5 x Gigabit Ethernet interfaces connected via PCI Express to meet the high performance requirements of communications applications. One of the 6 available SATA ports can be used for an onboard 2.5 inch SATA hard drive. An XMC socket (via PCI Express x8) and PMC socket for mezzanine cards ensure plenty of room for customized expansions. An onboard USB Flash option completes the feature set of the CP6016, which can be used in a system or peripheral slot.

The Kontron CP6016 CompactPCI® 6U processor board runs with Linux, Microsoft Windows XP, XP embedded or Windows Server 2003. Highly integrated support packages support all onboard hardware devices, and also specific features like Hotswap, IPMI, power and thermal management, enabling effortless integration among scalable multi-CPU systems.

Samples of the Kontron CP6016 CompactPCI® processor board are available now. Full production is scheduled for Q3, 2008.

About Kontron
Kontron designs and manufactures standard-based and custom embedded and communications solutions for OEMs, systems integrators, and application providers in a variety of markets. Kontron engineering and manufacturing facilities, located throughout Europe, North America, and Asia-Pacific, work together with streamlined global sales and support services to help customers reduce their time-to-market and gain a competitive advantage. Kontron's diverse product portfolio includes: boards and mezzanines, Computer-on-Modules, HMIs and displays, systems, and custom capabilities. Kontron is a Premier member of the Intel® Embedded and Communications Alliance. The company is a recent three-time VDC Platinum vendor for Embedded Computer Boards. Kontron is listed on the German TecDAX stock exchange under the symbol "KBC". For more information, please visit: www.kontron.com.

Further information about the Kontron CP6016 CompactPCI® processor board is available at: www.kontron.com/products/boards+and+mezzanines/6u+compactpci/x86+processor/cp6016.html

More about 6U CompactPCI®: www.kontron.com/products/boards+and+mezzanines/6u+compactpci/

More about CompactPCI®: www.kontron.com/cpci

Reader contact Americas:
Kontron America Inc.
14118 Stowe Dr
Poway, CA 92064-7147
United States of America
Tel: +1 (888)-294-4558
Fax: +1 (858) 677-0898
sales@us.kontron.com

www.kontron.com

More from Electrical Equipment & Systems