CPU Board is based on Intel Q35 Express chipset.
Press Release Summary: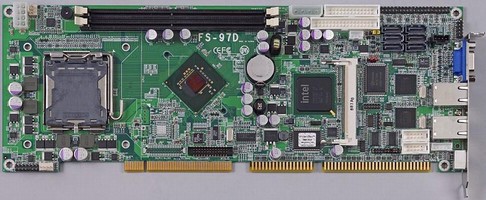 Model FS-97D supports 45 nm Intel Core 2 Quad or Intel Core 2 Duo processors up to FSB 1,333/1,066/800 MHz. It comes with RS232C, RS232/422/485, 2 Intel 82573L Giga LAN, and 8 USB 2.0 ports, and supports 2 x DDR2 SDRAM memory modules up to 4 GB and 6 SATA interfaces up to 3 Gb/s. Other features include Intel integrated extreme GMA 3100 technology, 24-bit dual channel LVDS interface, 2 DVI transmitters with onboard 26-pin DVI interface, and Mini-PCI bus add-in card connector.
---
Original Press Release:

Commell Announces FS-97D PICMG 1.0 CPU Card Based on Q35 Express Chipset



PICMG 1.0 CPU Card with Intel Q35 provides platform for Intel Core 2 Quad & Core 2 Duo up to FSB1333/1066/800 MHz, DDR2 up to 4GB, 2 x Giga, LAN, VGA, 6 x SATA, HD Audio, LVDS or DVI I/F, Digital I/O, 2 x COM, 1 x Mini PCI

(TAIPEI, TAIWAN, 3 October, 2008) -Taiwan Commate Computer Inc. (COMMELL), the worldwide leader of Industrial single board computers, introduced the PICMG 1.0 FS-97D SBC based on the Intel Q35 Express Chipset that supports 45nm Intel Core 2 Quad or Intel Core 2 Duo processors up to FSB1333/1066/800MHz to meet a wide range of performance needs. This impressive platform helps embedded equipment manufacturers deploy exceptionally responsive, high-performance, low-power systems for interactive clients (i.e., point-of-sale terminals and interactive PCs), industrial control and automation, gaming, print imaging and network security applications.

The FS-97D features low-power graphics with Intel GMA3100 and allows for reduced power and noise without sacrificing the performance and its 3-D enhancements enables greater flexibility and scalability. Microsoft DirectX 9.0c Shader Model 2.0, OpenGL 1.4 compliant, it is ideal for business users seeking support for advanced operating systems like Windows Vista and independent dual display the viewable workspace.

COMMELL's FS-97D supports 2 x DDR2 SDRAM memory modules up to 4GB, comes with PS/2 Keyboard and mouse, 1 x RS232C, 1 x RS232/422/485, 2 x Intel 82573L Giga LAN, 8 x USB2.0 ports, Realtek ALC888 HD audio, 6 x SATA interface up to 3Gb/s, and provides quicker access to digital photo, video and data files with RAID 0, 5, and 10. Provide expansion slots with 1 x Mini PCI for future add-in card upgrades.

FS-97D Features
o CPU: LGA775 socket type including Intel Core 2 Quad, Intel Core 2 Duo, Intel Pentium dual-core, and Intel Celeron.
o Memory: 2 x DDR2 667/800 MHz DIMM up to 4.0GB.
o Chipset: Intel Q35 and ICH9DO.
o VGA Interface: Intel integrated extreme GMA 3100 Technology.
o LVDS: 24-bit dual channel LVDS interface (optional).
o DVI: 2 x DVI transmitter with onboard 26-pin DVI interface (optional).
o LAN Interface: 2 x Intel 82573 Giga LAN.
o Audio: Integrated ICH9DO with Realtek ALC888 HD Audio.
o Serial ATA: Support 6 x SATA up to 3Gb/s.
o I/O Ports: 1 x RS232, 1 x RS232/422/485 Serial Ports, 8 x USB2.0 ports, 1 x DB15 VGA port, 1 x PS/2 keyboard and mouse ports, 1 x LPT, 1 x FDD port.
o Extended Interface: One Mini-PCI bus add-in card connector.
o GPIO Interface: Onboard programmable 8-bit Digital I/O interface.
o WatchDog Timer: 256-level generates system reset programmable watchdog timer.
o Power Requirement: +5V, +12V DC input & 5VSB requirement.

About COMMELL

COMMELL is a leading supplier of Single Board Computers and focuses on developing the most advanced and reliable IPC products. In addition to promise our customers constantly stay ahead of this competitive business, we are always in search of disruptive & incremental sustaining innovation. We treat every of our customer as partner and provide the best services and total support. The combination of innovation, superior quality, and excellent services will ensure both Taiwan Commate Computer Inc., and our customers always have the competitive edge in the computer world.

For further information about COMMELL is available at www.commell.com.tw

Contact
Email: info@commell.com.tw
sales@tcommate.com.tw
Tel: +886-2-26963909
Fax: +886-2-26963911

More from Transportation Industry Products