CPCI Ethernet Switch is convection- or conduction-cooled.
Press Release Summary: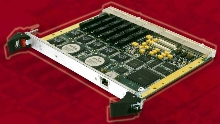 Designed for Layer-2 switching and Layer-3 IP network routing, CP6-GESW24M3 and CP6-GESW24M3N are 24-port managed Gigabit Ethernet switches that function as fabric or node board. They offer remote built-in test functionality as well as PMC slot for additional features. Convection-cooled CP6-GESW24M3, compatible with 6U CompactPCI slots, supports Ethernet 10/100/1000 BaseT physical interfaces. Conduction-cooled CP6-GESW24M3N has -40 to +85°C operating temperature range.
---
Original Press Release:

SBS Technologies Introduces 24-port Convection and Conduction Cooled 6U CompactPCI Gigabit Ethernet Switch


CP6-GESW24M3 Gigabit switch brings cost-effective high-speed network connectivity to commercial, telecom and military applications

o 24-port 10/100/1000 BaseT Ethernet Layer-2 and Layer-3 switching

o Managed switch is PICMG 2.16 and 2.9 compliant with extensive built-in test functionality

o PMC slot for adding additional features

o Conduction-cooled version with enhanced temperature protection

o Economical air-cooled version for non-rugged applications

Nuremberg, Germany (February 22, 2005) - SBS Technologies, Inc. (Nasdaq:SBSE): Today at Embedded World, SBS Technologies, Inc. continued its role as an embedded computer market leader by introducing a 6U CompactPCI® Gigabit Ethernet switch for normal temperature conditions and a conduction-cooled version for rugged, heat-sensitive environments. The CP6-GESW24M3 and CP6-GESW24M3N 24-port switches offer cost-effective high-speed network connectivity for both commercial and environmentally challenging military applications.

Designed for flexible Layer-2 switching and Layer-3 IP network routing, these managed Gigabit Ethernet switch boards require no host intervention or software drivers, resulting in easy installation and use. Both switches are PICMG 2.16 compliant and can function either as a fabric or node board. When used as a node board, two ports are used to connect the switch board to dual fabric connections and the remaining 22 ports are routed to rear panel I/O. The switch can be managed using SSH CLI or Telnet via the RS-232 serial interface or by HTTP or SNMP over Ethernet. An optional front panel RJ-45 connector for out-of-band management is also available.

"These high-speed Gigabit switches perform all Layer-2 and Layer-3 Ethernet switching functions and brings Ethernet connectivity to a wide range of challenging applications," said Bill Molyneux, Vice President of SBS General Purpose I/O Products. "Both of these switches offer system designers great versatility. The conduction-cooled version is optimized for harsh industrial and military environments where equipment is subjected to higher than normal temperatures," continued Molyneux.

The available PMC slot will allow developers to expand switch functionality and connectivity options . The switch's extensive built-in test (BIT) functionality enables managers to conveniently test the switch remotely while it is still installed in the system. The BIT feature provides three test modes: Power On, which is run immediately following a power on reset, Background, which is run while the switch is operating and does not interfere with normal switch activity, and Commanded mode for more extensive testing.

About the convection-cooled CP6-GESW24M3

Compatible with 6U CompactPCI slots, the CP6-GESW24M3 is designed to "keep it simple", giving a developer connect-and-go functionality. It connects only to the power and hot swap signals, is operating system independent and does not require host CPU intervention. Ethernet 10BaseT, 100BaseTX and 1000BaseT physical interfaces are supported.

About the conduction-cooled CP6-GESW24M3N

The ruggedized CP6-GESW24M3N delivers the same ease-of-use, features and functionality as the CP6-GESW24M3 plus enhanced environmental protection with conduction cooling. This switch has an extended operating temperature range of -40°C to +85°C.

Price and Availability:

Pricing for the convection-cooled CP6-GESW24M3 starts at US$4900.00 and is available now. The conduction-cooled CP6-GESW24M3N starts at US$7540.00 and will be available next quarter.

About SBS Technologies

SBS Technologies, Inc. (Nasdaq:SBSE), founded in 1986, designs and builds a wide range of standard and customized embedded computer products. Our products include processor boards, input/output modules, networking devices, and complete computer systems. Our products are used in many industries, including telecommunications, medical electronics, industrial automation and defense. Headquartered in Albuquerque, New Mexico, SBS maintains eight primary operating locations, has regional sales offices throughout the United States and has international sales and support offices in six countries. More information on SBS is available at www.sbs.com.

Brand or product names are registered trademarks or trademarks of their respective holders.

Sales Contact
info@sbs.com
505.875.0600


More from Agricultural & Farming Products