CPCI Backplanes offer reduced width for tight spaces.
Press Release Summary: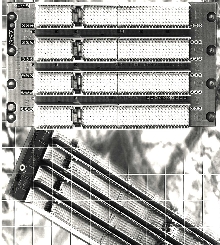 CPCI backplanes in 3U and 6U models are available in 2, 3, 4, 5, and 6 slot versions. The 1U, 2U, and 3U horizontal subracks can house 2, 4, and 6 slot backplanes, respectively. Units feature right hand system slot position, are compliant with Revision 2 of PICMG 2.1 Hot Swap specification, and support both 33 and 66 MHz operation. I/O signaling environment is selectable between 3.3 V and 5 V. Power is supplied via 6.35 mm Fastons and M4 Power Bugs.
---
Original Press Release:
Save Cost and Space with New CPCI Backplanes

LOWELL, MA -- Triple E Corporation's new series of reduced width cPCI backplanes allows for greater package density resulting in considerable overall cost savings. In datacom and telecom applications, where space is typically at a premium, the reduced width series gains a full slot position.

The 3U and 6U reduced width models are available in 2, 3, 4, 5 and 6 slot versions. 1U, 2U and 3U horizontal subracks can house 2, 4 and 6 slot backplanes respectively. Designed to meet PICMG 2.0 Rev 3.0, backplanes feature a right hand system slot position, are compliant with Revision 2 of the PICMG 2.1 Hot Swap specification and support both 33MHz and 66MHz operation. The I/O signaling environment is selectable between 3.3V and 5V. The power is supplied via 0.250i (6.35mm) Fastons and M4 Power Bugs. A 10-way service header is also provided for power supply control monitoring and other system management functions.

To suit specific customer application requirements, both 32 bit and 64 bit versions are available. The 4, 5 & 6 slot backplanes have the option of CT/H.110 routing to PICMG 2.5 Rev 1.0, giving additional frame ground terminals and increased signal/power plane clearances required to operate with 48VDC telecom voltages.

Delivery is 3-4 weeks ARO with typical cost for a 4-slot 3U back-plane starting @$315.00 each, 2-slot 6U backplane starting @$402.00 each. For more information, contact Triple E Corporation, 60 Foot of Crosby Street, Lowell, MA 01852. Tel: (978) 453-0600, Fax: (978) 453-1196, e-mail: info@ TripleEase.com, www.TripleEase.com
More from Machinery & Machining Tools