CP6906 Control Panel Display offers resolution of 800 x 480 WVGA.
Press Release Summary: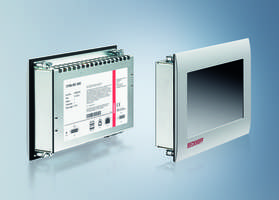 Housed in enclosure with aluminum bezel and sheet steel rear cover, CP6906 Control Panel Display can be combined with CX series Embedded PC or Industrial PC. Suitable for machines, plants and buildings control applications, unit is integrated with DVI/USB Extended technology for remote operation from up to 50 m away. Product comes with 7 in. touchscreen.
---
Original Press Release:
New CP6906 Control Panel from Beckhoff Expands Entry-Level Product Offering
Robust Control Panel display with 7-inch touchscreen is a compact, low-cost option for HMI and visualization
In order to provide high-quality industrial display solutions to cost-sensitive applications, Beckhoff has introduced the new CP6906 Control Panel display. Offering a 7-inch touchscreen with 800 x 480 WVGA resolution, and a robust housing consisting of an aluminum bezel and sheet steel rear cover, this passive display is the ideal solution to answer applications with pronounced budgetary constraints – without sacrificing quality.
Manufactured according to the highest standards in Germany, the CP6906 is intended for engineers seeking to add a reliable, compact interface at a low cost. Once combined with a controller, such as a DIN rail mounted CX series Embedded PC or a cabinet mounted Industrial PC (IPC) from Beckhoff, the result is a very inexpensive and compact control and HMI solution for machines, plants, buildings and other equipment. For maximum installation flexibility, the CP6906 integrates DVI/USB Extended technology, enabling remote operation as far as 50 m away from the PC.
With the latest addition of the CP6906, Beckhoff offers a full range of low-cost options for cost-sensitive applications in the low to medium performance range. The entry level range now spans from the most basic Control Panel in the CP6906, all the way up to full-featured IPCs and Panel PCs with powerful CPU options. Built to the same exacting quality standards, the other compact panels in this series include:
CP6606 Panel PC equipped with ARM Cortex™-A8 processor and 7-inch screen for basic control applications
CP6706 Panel PC equipped with powerful Intel® Atom™ processors (up to 4 Cores) and 7-inch screen for small to medium-sized control applications
For more information:
CP6906 Control Panel http://www.beckhoff.com/cp6906/
Entry Level IPCs https://www.beckhoff.com/ipc-entry-level
Beckhoff Automation is a provider of advanced and open automation solutions based upon proven technologies for customers to implement high performance control systems faster and at a lower overall cost than traditional PLC and motion control systems. Beckhoff's "New Automation Technology" product range includes PC-based control, industrial PCs, automation controllers, operator interfaces, I/O, servo drives and motors. With representation in more than 75 countries, Beckhoff is well-positioned to provide global sales and service to its customers. Beckhoff sales and service are handled directly, with no intermediaries involved for exceptional customer service and consultation.
Contact:
Beckhoff Automation LLC
13130 Dakota Ave.
Savage, MN 55378
Phone: 952-890-0000 
Fax: 952-890-2888
E-mail: beckhoff.usa@beckhoff.com
More from Material Processing