Coveris Presents Fresh & Innovative Packaging Solutions at Fruit Logistica 2015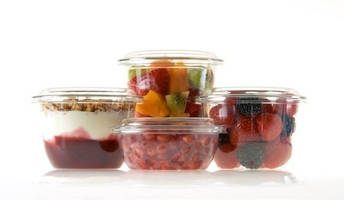 Coveris unveils its exclusive range of innovative fresh food packaging at Berlin's Fruit Logistica trade fair, 4th to 6th February. Convenience, sustainability, product presentation as well as improved shelf life and freshness are in the focus of the company's product offering.



Shelf life and freshness improved rigid and flexible packaging solutions



The global packaging manufacturer and solutions provider Coveris will exhibit its global fresh and convenience food packaging solutions at the Fruit Logistica in Berlin between 4th and 6th February.Shelf life enhancing and freshness improving packaging solutions are in the focus of the global offering of the flexible and rigid divisions. Coveris' sales experts as well as technical and scientific representatives will welcome visitors between 9am and 6pm to discuss packaging needs for the increasing demand in healthy eating and convenient food-to-go. Coveris will furthermore display its solutions responding to industry trends, such as product sustainability, appealing product presentation and packaging with extended shelf life. Next to a big range of innovative brands like Freshlife® and Tri-Pot™ and sustainable packaging products made from green PE and PET, visitors can discover the exclusive Food Science Clinic™ at the Coveris stand in exhibition hall 8.2, stand B13.



Convenient and attractive fresh food presentation thanks to rigid PET packaging innovations



The Tri-Pot™ range of contemporary dessert pots is based on current food and packaging trends and made from PET. The range consists of three interchangeable pots, two lids and one insert, providing endless combinations for the perfect food presentation. Coveris' Tri-Pot™ packaging solution was recently awarded The New Café Product Award 2014.



PET products like the Tri-Pot™ or the handle pot by Coveris ensure optimal rigidity, immunity against mechanical damages and allow perfect product presentation. At the same time, they are highly convenient as fresh food can be carried easily through a hinged handle, being the first of its kind in thermoforming technology.



Next to the Tri-Pot™ and the handle pot, Coveris offers with its product line of containers with hinged and non-hinged lids an ideal packaging solution for salads, pastas and rice dishes. In doing so, Coveris is responding to consumers' growing demand in pre-packed and convenient food-to-go solutions, whilst ensuring a longer shelf life and most optimal product presentation.



Coveris' PET trays moreover are most suitable for the presentation of fresh vegetables. They are sturdy, resistant to breakage and provide not only functionality, but also safety and excellent performance throughout the entire supply chain.



When it comes the packaging of soft fruits like blueberries, raspberries or strawberries, Coveris' PET punnets offer great functionality due to their sturdy and rigid material. This in consequences is speeding up the process of lid closing, foil or net-wrapping, whilst simultaneously providing perfect protection and product presentation in the states of transit, storage, display and sale. The integrated ventilation openings facilitate furthermore quick cooling and air circulation inside the package, extending overall product shelf life.



Coveris' tumblers have demonstrated to be the most convenient packaging for sliced fruit or dairy desserts. The transparent cup not only allows for a favourable and appetizing product presentation, but also facilitates the food transport (i.e. in a car cup holder) and intake, whilst the lid allows the consumer to seal the packaging temporarily and store the contents safely for later use.



With a broad product portfolio and different manufacturing capabilities of fresh and convenience food packaging all over the world, Coveris achieves broad geographical coverage, making it a global packaging solutions provider who is further investing in PET capacity with focus on the fresh food and produce market.

More from Electrical Equipment & Systems