Cover Strips protect miniature ball rail systems.
Press Release Summary: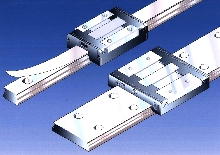 Stainless-steel cover strips are pre-cut to rail length and cover mounting holes in profiled rail, eliminating plastic mounting hole plugs. They protect against dirt and contaminants, and provide unbroken rail surface to improve runner block sealing. Miniature Ball Rail Systems include sizes 7, 9, 12, 15 and 20 mm and wide version in sizes 9, 12 and 15 mm. Cover strips can be supplied in one piece up to 1,000 mm, and fit all sizes except 7.
---
Original Press Release:
Cover Strip Reduces Installation and Maintenance Costs for Miniature Ball Rail Systems

A new cover strip from Bosch Rexroth's Linear Motion and Assembly
Technologies division reduces both installation and maintenance costs for Miniature Ball Rail Systems.

Each stainless steel strip is pre-cut to the rail length and covers the mounting holes in the profiled rail, eliminating the expense of inserting plastic mounting hole plugs. Users snap the cover into place on the rail and smooth it down with a finger.

The new cover strips protect against dirt and other contaminants and provide a smooth, unbroken rail surface to improve runner block sealing. By reducing lubricant consumption, they also extend maintenance intervals or even eliminate the need for maintenance over the rated service life of the system.

The range of Rexroth Miniature Ball Rail Systems includes sizes 7, 9, 12, 15 and 20 millimeters and a wide version in sizes 9, 12 and 15 millimeters. The cover strip is available for all rails, with the exception of size 7, and can be supplied in one piece up to 1,000 millimeters. Although rail sections are joined end-to-end for longer travel strokes, they always come with a one-piece cover strip.

Bosch Rexroth Corporation, a merger of Bosch Automation Technology and Rexroth, is a wholly owned subsidiary of Robert Bosch GmbH. In the year 2000 the separate companies had total revenues of approximately $3.56 billion (3.78 billion Euros) and a worldwide total of around 26,000 employees. Divisions include
Industrial Hydraulics, Electric Drives and Controls, Linear Motion and Assembly Technologies, Pneumatics, Service Automation and Mobile Hydraulics. Bosch Rexroth - The Drive & Control Company - offers comprehensive solutions for drives and motion control in 80 countries around the world.

Bosch Rexroth Corporation, Claudia Hoefer, Corporate Communications 5150 Prairie Stone Parkway, Hoffman Estates, IL 60192, www.boschrexroth-us.com

Bosch Rexroth Corporation
Kevin Gingerich
816 E. Third Street
Buchanan, Ml 49107
Telephone (616) 697-5295
Fax (616) 695-5363
kevin.gingerich@boschrexroth-us.com

Godfrey Public Relations
Mike Randazzo
2890 Hempland Road
Lancaster, PA 17601
Telephone (717) 393-3831 ext. 127
Fax (717) 393-1216
mrandazzo@godfrey.com

More from Architectural & Civil Engineering Products