Electrical and Lighting Covers
Cover Mounts Over Thermostat Preventing Unwanted Access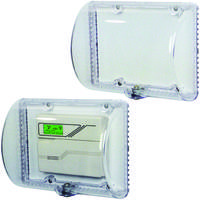 January 24, 2023 – Is someone too hot and another too cold? Do they change the thermostat temperature when no one is looking? Are your heating costs rising? STI has the solution to your problem.
The Thermostat Protector with key lock (STI-9110) helps protect thermostat and energy sensors. The cover mounts directly over the unit to prevent unwanted access yet allows authorized use with the provided key.
Molded of clear, heavy-duty polycarbonate material, this cover is recommended for areas where abuse is a problem. This may include vandalism, accidental damage or costly annoying tampering by staff, clients or customers.
The technologically advanced design has holes in the frame allowing air to circulate freely yet an inner wall prevents tampering with dials and levers. It is quick and easy to install and is for flush mounted applications. Other models available.
For more information on STI Thermostat Protectors (STI-9110), or the entire Stopper® Line, call 248-673-9898, email [email protected] or visit www.sti-usa.com. STI's address is: 2306 Airport Road, Waterford, MI 48327-1209.