Couplings simplify cooling of electronic enclosures.
Press Release Summary: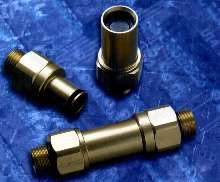 Rack and Panel quick-disconnect, non-spill couplings make close-loop liquid cooling safe for electronic enclosures. Made of aluminum and thermoplastics, they are virtually leak-free with flow rates reaching 14 gpm at 100 psi. Couplings are suitable for cell tower base stations, power amplifiers, computer cooling, circuit board testing, and MRI cooling.
---
Original Press Release:
New CPC RPN Couplings Simplify Liquid Cooling of Mission-Critical Electronic Enclosures

ST. PAUL, Minnesota - January 31, 2003 - Colder Products Company (CPC) has introduced the Rack & Panel (RPN) Non-Spill Quick Coupling, a quick disconnect, non-spill coupling, making closed-loop liquid cooling safe and easy for delicate, expensive, electronic closures. CPC's, RPN coupling was designed specifically for electronic cooling applications.

"In the past, closed-loop liquid cooling in mission critical electronic closures was risky," said CPC Industrial Market Manager Patrick Williams. "CPC's new RPN coupling makes liquid cooling an attractive option. The RPN is the crucial missing link in a reliable, leak-free closed-loop liquid cooling system."

Engineering concerns regarding liquid cooling have included leakage, flow rate and change out. The new CPC couplings solve those problems. The CPC RPN non-spill design is virtually leak free with flow rates reaching 14 GPM at 100 psi (3/8" flow size). The CPC RPN is crafted from economical, lightweight aluminum and thermoplastics.

Williams said there are a wide variety of applications for the CPC RPN series. In telecommunications - the industry for which the RPN was originally designed -- there are applications in cell tower base stations, power amplifiers and base station maintenance. But the potential reach of the product goes far beyond telecommunications. For example, in the medical products industry, the CPC RPN is ideal for MRI cooling applications. It also has applications in computer cooling, such as large remote servers. Liquid cooling is already being used in circuit board testing and in aerospace applications, but those are custom systems that are often very elaborate and costly. The new CPC RPN series makes such systems reliable and leak-free.

CPC is also developing additional non-spill product lines that will incorporate CPC's easy-to-use push-button thumblatch with an audible "click" that ensures a secure connection. These exciting new products will make liquid cooling even safer and more reliable. Watch for these new products in mid-2003.

CPC's quality system is ISO 9001-certified and CPC couplings have a worldwide reputation for repeatable, leak-free connections. For more information, contact:

Colder Products Company, 1001 Westgate Drive, St. Paul, MN 55114.

Toll-free (866) 785-7975. Phone (651) 645-0091. Fax (651) 645-5404.

Email: info@colder.com Web: www.colder.com

Please forward information requests to: Rich Herpers at Colder Products Company. Email: rich.herpers@colder.com. Phone: (651) 645-0091. Fax (651) 645-5404.
More from Construction Equipment and Supplies