Coupling System promotes plant availability.
Press Release Summary: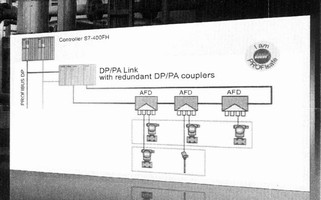 With redundant Profibus PA fieldbus communication, DP/PA coupler helps optimize availability of production plants. It can be designed for redundant installation, and active Field distributors with integrated automatic bus terminators help create high-availability ring topologies. Scalable solution is completely inclusive, from automation system to PA field unit. Instrumentation can be altered, or ring segments added or removed, without interrupting operation.
---
Original Press Release:

Redundant Profibus PA Communication for High Plant Availability



With redundant Profibus PA fieldbus communication from Siemens Automation and Drives (A&D), users increase the availability of their production plants and avoid unplanned downtimes. For this purpose, Siemens has developed a DP/PA coupler, which can be designed for redundant installation, and an active Field distributor (AFD) for creating high-availability ring topologies. As a result, the plant operator can now be supplied with a scalable, redundant solution which is completely inclusive - from the automation system to the PA field unit.

The new Profibus PA component can be used to create highly available ring topologies. When it is combined with Profisafe field units, high-availability and safety-oriented applications can be implemented which are considerably less expensive than those with conventional architectures.

The new DP/PA coupler with an integrated diagnostics slave function and the new AFDs have integrated automatic bus terminators. The latter insulate defective segments automatically and without bumps in the event of a short-circuit or wire break. In addition, the instrumentation can be altered or ring segments added or removed without interrupting operation. Installation is also easier and safer because incorrect termination is completely ruled out. Moreover, comprehensive diagnostic functions are provided with which any faults that occur can be quickly located and rectified.

The complete redundancy management system is integrated in the DP/PA coupler. Diagnostic and status information is signaled by means of LEDs or reported to the overall control system via Profibus. If the DP/PA couplers are used as Profibus diagnostic slaves, they use the Profibus to supply comprehensive diagnostic and status information such as the current or voltage on the main line, the redundancy status, a wire break or a short-circuit. With the help of EDD (Electronic Device Description) technology, the DP/PA coupler is integrated in the Simatic PDM (Process Device Manager) engineering tool and in the asset management feature of the Simatic PCS 7 process control system.

Further information in the Internet at: http://www.siemens.com/profibuspa

This press release is supplemented by a photo which you can view in the Internet at: http://www.siemens.com/ad-picture/1305

You can read the full text in the Internet at: http://www.siemens.de/automation/presse

More from Materials