Coupling Guards suit electric motor/gearmotor connections.
Press Release Summary: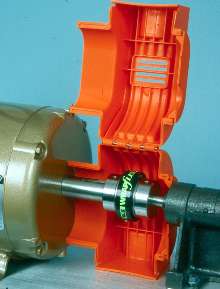 Orange Peel Type MCG guards feature symmetrical halves injection molded from polyethylene and joined by hinge assembly at top. Products are trimmed to length and attached to foundation with 2 fasteners. Guards, offered in 3 sizes to accommodate NEMA motor frames from 56-440T, come in ANSI Safety Orange, ISO Safety Yellow, and Sanitary White. Optional End Caps enclose extension openings, and Metal Risers are offered for high base to centerline requirements.
---
Original Press Release:
New Low Cost Coupling Guard Introduced for Electric Motor and Gearmotor Connections!
Milwaukee, WI - Orange Peel Type MCG guards are now available from Falk Corporation, for electric motor and gearmotor connections. Type MCG offers "trim & fit" convenience, a low initial cost, safety compliance, simplified installation, and reduced maintenance. It is the ideal solution for motor driven; pumps, fans, blowers and gear drives. Type MCG Guards are simply trimmed to length and attach to the foundation with two fasteners. Optional End Caps are supplied to enclose the extension openings, when required. Metal Risers are also available for high base to centerline requirements. Type MCG Guards feature symmetrical halves, injection molded from maintenance free polyethylene, and joined by a hinge assembly at the top. Three sizes accommodate NEMA motor frames from 56 to 440T (71 to 315 IEC). They are available from stock in ANSI Safety Orange, ISO Safety Yellow, and Sanitary White, for indoor or outdoor use. Falk can now offer a standard Orange Peel guard to compliment its coupling lines, and ship them as a standard "Shaft Connection" solution. Orange Peel guards are also used on Falk Drive Systems to offer improved maintenance convenience and availability. Orange Peel Rotating Shaft Guards are the ideal solution for new applications, and to retrofit existing installations. Safety labels are also available for use on existing guards. For more information on Falk's products and services, contact The Falk Corporation, 3001 W. Canal Street, Milwaukee, WI 53208, USA, Phone: 414.937.4686, Fax: 414.937.4062, E-Mail: [email protected], Web Site: www.falkcorp.com/opguards The Milwaukee, WI based Falk Corporation offers drive systems, gear drives, gearmotors, shaft couplings, fluid couplings, coupling guards, ring gears, and steel castings in mining, metal processing, pulp and paper, cement, aggregates, chemical processing, utilities, transportation, and food processing.