Countertop Medical-Grade Refrigerator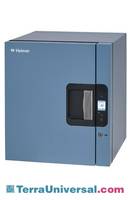 Fullerton, CA – The MLR102 Countertop Laboratory/Pharmacy Refrigerator by Helmer Scientific is energy-efficient and Joint Commission approved for medication storage. Compared to most compact countertop refrigerators, the 1.8 cu ft MLR102 requires less clearance (3 inches behind unit); noise generated is only 40 dBA.
Helmer's AdvanceCore™ technology ensures uniform and stable temperature, ranging from 2"aC to 8"aC, +/- 1.8"aC. Their solid-state thermoelectric heat pump uses forced air circulation to cool the unit, which also reduces recovery time after the door is opened and environmental heat output. The lack of moving parts decreases maintenance needs and makes the refrigerator ideal for point-of-care applications.
Connect to medication management systems such as Pyxis or Omnicell, and download temperature data to a USB. A color LCD display allows programming of temperature and audible alarms, such as high/low temperature, "door ajar" and "no power." The door can be locked and password-protected for security of contents.
Laboratory-Equipment, a Terra Universal brand, offers hundreds of top-tier laboratory instruments and supplies. For more information about Helmer Scientific's MLR102 Countertop Lab/Pharmacy Refrigerator, visit Laboratory-Equipment's website.
Contact:
Evan Messenger
Terra Universal: Marketing
Phone (714) 578-6000
More from Electrical Equipment & Systems