Countertop Brackets support 1,000+ lb per pair.
Press Release Summary: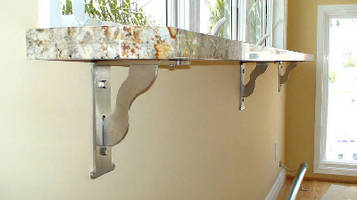 In addition to creating floating countertop appearance, Floating Countertop Support Brackets and Elevated Countertop Support Brackets allow for maximum leg room. Units are available in 304 brushed stainless steel and 1008 unfinished cold rolled steel, which is intended to be painted or finished by end user. Measuring ¼ in. thick with flange width of 2–3 in., USA-made brackets can be mounted using standard ¼ in. screws or bolts.
---
Original Press Release:

Outwater Introduces its Steel Countertop Support Brackets in New Styles & Sizes



Not just another industry standard, wimpy countertop support bracket from which to choose, Outwater's [Outwater Plastics Industries, Inc. + Architectural Products by Outwater, LLC] solid 304 brushed stainless steel and 1008 unfinished cold rolled steel (intended to be painted or finished by the end user) Countertop Support Brackets are fabricated in the USA from the highest quality materials in a wide range of attractive designs with implemented ISO 9001 certified manufacturing procedures and possess incomparable strength and load capacities for use in all types countertop support applications.



Outwater has expanded its line of Countertop Support Brackets with the introduction of many new styles and sizes along with an innovative series of newly pioneered Floating and Elevated Countertop Support Brackets [Floating Countertop Support Brackets + Elevated Countertop Support Brackets], which not only create the appearance of a floating countertop, their design and configuration allow for maximum leg room, thus offering a viable solution to the uncomfortable knocking of knees often encountered when using traditional countertop support brackets in cramped spaces. 



Outwater's Countertop Support Brackets are not only pleasing to the eye, unlike generic support brackets, they have a load rating of over 1,000 pounds per pair, and combine beauty, quality and industrial strength to enable even the heaviest countertops to be supported with ease.



Outwater's Countertop Support Brackets are ¼-inch thick, have a flange width of 2 to 3-inches and can be easily mounted using standard 1/4-inch screws or bolts.



For further product information, please click the enclosed link or copy and paste it into your web browser: 



http://www.outwatercatalogs.com/lg_display.cfm/catalog/Master_2012?useSearchForm=single&page=569



About Outwater [Outwater Plastics Industries, Inc. + Architectural Products by Outwater, LLC]: Outwater can be contacted Toll Free at 1-800-631-8375 (For sales and product information in the USA & Canada) / 1-201-498-8750 (For sales and product information outside of the USA & Canada) or viewed online at www.outwater.com 



From the vendor of a single product in August 1972, Outwater, with sales and distribution facilities in New Jersey and Arizona, is recognized today as a well established international manufacturer and stocking distributor of more than 65,000 standard and innovative component products required by woodworkers, cabinet and furniture manufacturers, builders, remodelers, designers, architects, point-of-purchase and display fixturing manufacturers, OEM's, as well as a diversified range of other commercial and retail end users.



Major Product Categories include Plastic & Aluminum Extrusions; Lighting and Lighting Accessories; Furniture, Cabinet & Store Fixture Components; Knobs & Pulls; Casters; Fasteners; Laminates; The FOGA Exhibit & Display Fastening System; The Klem Connector; Literature Displays; Slatwall; Sign Holders; P.O.P Components; Display Motors & Turntables; Pedestals; Injection Molded Parts; Brass Tubing & Fittings; Surfacing Materials; Interior & Exterior Polymer & Wood Architectural Mouldings & Millwork; ORAC DECOR and DEM Architectural Mouldings & Millwork; Columns & Capitals; Balustrading; Wrought Iron Components; Decorative Stamped Steel & Polymer Ceiling Panels; Wainscoting; Wall Coverings; Fireplace Surrounds; Plastic "Glass" Block; Period & Contemporary Hardware; Kitchen & Bath Accessories; Kitchen & Bath Cabinetry and Vanities… and so much more!



Contact:

Joey Shimm, Director of Marketing

Outwater Plastics Industries, Inc. + Architectural Products by Outwater, LLC

(201) 498-8750

More from Electronic Components & Devices