Counterboring, Precision Boring Tools use Capto technology.
Press Release Summary: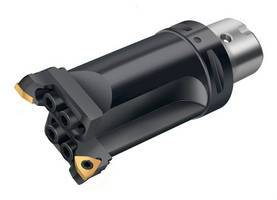 Counterboring and precision boring tools are available with connections for Walter Capto™ adaptors, which allow multiple processes to be performed with single tooling interface. Allowing use on small and large machines, connections are available in 5 coupling sizes. Capto variants feature completely backlash-free, self-centering connection that does not require special locking device. Resistant to bending, Capto adaptor also minimizes vibration tendency.
---
Original Press Release:

Walter Brings the Benefits of Versatile, Time Saving Capto Technology to its Line of Counterboring and Precision Boring Tools



Walter announces that its Walter Capto™ adaptors will now be available for its innovative counterboring and precision boring tooling systems.



Waukesha, WI – Walter is offering its counterboring and precision boring tools with connections for Walter Capto™ adaptors. The versatile and time saving Capto interface is being increasingly used on lathes, machining centers and multi-tasking machines to allow these machines to perform multiple processes with only a single tooling interface. Now, by offering connections to its Walter Capto adaptors in addition to its NCT and ScrewFit connections, Walter is bringing the benefits of Capto technology to its line of counterboring and precision boring tools. The connections are available in five coupling sizes, allowing them to be used on both small and large machines.



Walter boring tools comprise twin-insert models with medium and maxi versions for holes of 0.787-25.17 in. (20-640 mm). This stable and compact boring system has an internal coolant supply and is suitable for symmetrically or radially displaced roughing operations.



Walter precision boring tools include solid carbide and single insert tools with mini, medium and maxi versions for holes of 0.787-25.17 in.(2-640 mm). Depending on the hole diameter, either boring-bar, cartridge or bridge constructions made of aluminum are used.



Walter PrecisionDIGITAL  are single-edged precision boring tools for the most precise holes with a diameter of 0.118 to 4.882 in. (3-124 mm). Their optoelectronic encoder makes it possible to read micron-precise digital results. For holes with a diameter up to 0.39 in. (10 mm), solid carbide boring bars are available; for large diameters, bridges are available. The tool can be used up to a speed of 16,000 rpm.



Users of the Capto variants of this system will have a range of additional advantages: The interface is clamped using a conical polygon in accordance with ISO 26623, with a small cone angle. This creates a high clamping force and a good support face. The force is evenly distributed around the circumference of the polygon. The connection is completely backlash-free, is self-centering and does not need any special locking device. The Capto adaptor is also shorter and therefore more resistant to bending than other adaptors, and the tendency to vibrate is correspondingly lower. This is especially useful in precision boring with its requirement for higher quality.



Walter, a global leader in the metalworking industry with over 90 years of experience in precision cutting tools for milling, drilling, turning, boring and specialized tools, helps customers improve process reliability and increase productivity. With Regional Headquarters in Waukesha, WI, Walter markets its competence brands Walter Valenite, Walter Titex, Walter Prototyp and Walter Multiply through a strong network of distributors and field engineers across subsidiaries in the USA, Canada, Mexico, Brazil and Argentina.

More from Chemicals & Gases