COTS OpenVPX(TM) Chassis features AFT cooling technology.
Press Release Summary: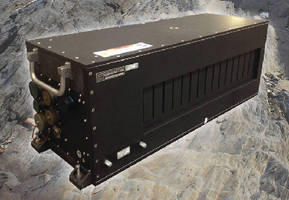 Supporting ANSI/VITA 48.5 Air Flow Through standard, Hybricon® AFT16 provides cooling for Xilinx® Virtex™-7 FPGA, multicore Intel® Core™ i7, and GPGPU-based VPX SBCs and DSP engines that can dissipate heat in 120-200 W range. Unit supports 6U air flow through slots with 13 slots of 1.5 in. pitch for AFT OpenVPX cards and 3 slots for power supplies up to 2,370 W. Using core style heat exchanger, Northrop Grumman's AFT technology cools without exposing electronics to direct contact with air.
---
Original Press Release:

Curtiss-Wright Introduces Industry's First Open Standards-Based COTS Air-Flow through (AFT) Rugged Chassis



ASHBURN, Va. — Curtiss-Wright Corporation (NYSE: CW) today announced that its Defense Solutions division has introduced the Hybricon® AFT16, the industry's first COTS OpenVPX™ Air Flow Through (AFT) Chassis. This innovative new chassis is designed to provide optimal cooling for today's most advanced, high performance modules, such as Xilinx® Virtex™-7 FPGA, multicore Intel® Core™ i7, and GPGPU-based VPX single board computers (SBCs) and DSP engines that can dissipate heat in the 120 - 200W range. Leveraging Curtiss-Wright's proven AFT subsystem technology, the AFT16 is the first rugged COTS chassis to support the ANSI/VITA 48.5 Air Flow Through (AFT) standard featuring Northrop Grumman Corporation's (NYSE: NOC) patented AFT cooling technology (U.S. Patent Number 7,995,346). The new 16-slot AFT chassis, designed for use with highly rugged, sealed 6U VPX modules, is ideal for dense, high performance systems such as those deployed in C4ISR applications, including SIGINT, ELINT, COMINT and radar processing. 



"We are pleased to introduce the industry's first rugged VPX Air Flow Through (AFT) chassis," said Lynn Bamford, Senior Vice President & General Manager, Defense Solutions division. "Designed to support Curtiss-Wright VPX modules that have been enhanced with support for AFT cooling, the Hybricon AFT16 can operate at higher levels of power dissipation than conventional conduction-cooled systems that depend on heat exchangers in the system chassis. This enables system designers to cost-effectively develop and deploy more powerful computing platforms than ever possible before."



Demand for AFT

The power density of many of today's VPX systems precludes the use of standard conduction-cooled cards. As high performance modules reach up to and exceed 170W densities, thermal conduction losses between hot module components and the chassis' heat exchanger severely limit thermal performance in deployed environments.  AFT cooling hits the "sweet spot" for today's high-performance modules, enabling reliable cooling of 120 to 200W cards within the boundaries of +55°C air.



The First COTS AFT Chassis

Leveraging Curtiss-Wright's long track record of successful AFT subsystem deployment, the Hybricon AFT16 chassis supports 16 ANSI/VITA 48.5 6U air flow through slots with 13 slots of 1.5" pitch for AFT OpenVPX cards and 3 slots for power supplies for up to 2,370W of power. This advanced thermal management approach delivers a highly efficient open standards-based cooling method that ensures optimal performance from today's most densely integrated host boards and mezzanine modules.



About AFT Cooling

Northrop Grumman's AFT technology improves the air cooling of advanced electronic modules through the use of a compact core style heat exchanger design that significantly increases the cooling efficiency of removable electronic modules such as VPX (VITA 46/48) cards. AFT modules are housed in rugged, sealed "shells" that enable cooling without directly exposing a module's electronics to direct contact with air, eliminating the risk of exposure to airborne contaminants. AFT technology employs sliding air seals at the inlet and outlet of AFT cards, and enables modules to be removed and replaced in the field without requiring specialized technicians or the removal of the entire subsystem to ensure safe module replacement or technology upgrades.



Curtiss-Wright's Thermal Management Expertise

For over three decades, Curtiss-Wright's Defense Solutions division has been a recognized leader in thermal management for rugged deployed systems. This unmatched expertise provides the ability to understand and perform trade studies for a wide range of solutions to handle the thermal load presented in program requirements.



Sales inquiries: Please forward all Sales and reader service inquiries to Kavita Williams, Curtiss-Wright Defense Solutions, Tel: (661) 705-1142; Fax: (661) 705-1206; email: defensesales@curtisswright.com.



For more information about Curtiss-Wright's Defense Solutions division, please visit www.cwcdefense.com.



About Curtiss-Wright Corporation

Curtiss-Wright Corporation (NYSE:CW) is a global innovative company that delivers highly engineered, critical function products and services to the commercial, industrial, defense and energy markets.  Building on the heritage of Glenn Curtiss and the Wright brothers, Curtiss-Wright has a long tradition of providing reliable solutions through trusted customer relationships. The company employs approximately 10,000 people worldwide.  For more information, visit www.curtisswright.com.



John Wranovics

Director of Public Relations

Curtiss-Wright Defense Solutions

jwranovics@curtisswright.com

Mobile: (925) 640-6402

More from Test & Measurement