COTS Multifunction Displays comply with marine standards.
Press Release Summary: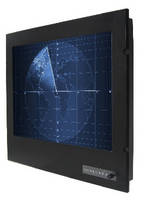 Available in 10.4, 15, 19, 23, and 24 in. screen sizes, Marine and Naval Touchscreen LCD Monitors comply with marine equipment standards IEC 60945, DNV 2.4, and IACS-E10 needed to withstand harsh maritime environments requiring low EMI or long-term vibration resilience. Environmental ratings for enclosures are based on NEMA 4, 4X, and IP65. Available with optional optical bonding and full range dimming, displays offer customizable bezel and mounting design.
---
Original Press Release:

AIS Unveils New COTS Marine and Naval Multifunction Displays for Advanced Monitoring and Control Applications



Irvine, California - American Industrial Systems Inc. AIS, an ISO 9001:2008 is a certified supplier and manufacturer of COTS multifunction displays for marine's integrated platform management system (IPMS) and integrated bridge system (IBS) applications.



AIS marine display monitors with rugged touch screen interface, comply with marine equipment standards IEC 60945, DNV 2.4, and IACS-E10 (international standard for maritime navigation and radio communications equipment and systems), needed to withstand harsh maritime environment requiring low EMI or long-term vibration resilience, specifically designed to operate and withstand the maritime environment; and suitable for combat ships, submarines, military vessels, bridge control display, navigation, monitoring and ship automation applications.



AIS naval monitor displays are DNV certified for a range of extreme conditions including temperature, humidity, vibration, EMC compatibility and enclosures. Environmental ratings for enclosures are based on NEMA 4, 4X, and IP65 for degree of protection against falling dirt, rain, snow, windblown dust, splashing water, hose-directed water, and corrosion. AIS COTS naval rugged displays and marine ECDIS displays also offer excellent performance in terms of brightness, crispness, contrast, viewing angle, and a range of industrial features, such as optional optical bonding and full range dimming. The bezel and mounting design can be customized to address virtually any mounting requirement in various applications. AIS professional high quality design provides marine users with reliable, cost-efficient, and ready-to-run solutions. AIS full-range selection of COTS ruggedized marine LCD display touch screen monitors are available in screen sizes 10.4", 15", 19", 23" and 24".



A Trusted Platform for COTS-Based Systems

• Maritime Environment Standard: Tested to DNV standard methodology for a range of extreme conditions including temperature, humidity, vibration, EMC compatibility and enclosures.

• IEC60945: Tested to IEC60945 standard methodology for maritime navigation and radio communication equipment and systems, including radio and navigational equipment used onboard.

• IACS-E10: Tested to IACS-E10 standard procedure for electronically controlled equipment and instrumentation, as well as marine displays.



Reliability Methods and Standards

AIS understands that high availability and reliability are required to minimize costs of operation (e.g. minimizing scheduled and unplanned maintenance). MTBF is integrated in AIS engineering design, and governs frequency of required system maintenance and inspections.

• AIS calculates reliability prediction of industrial displays and embedded systems using the Bellcore standard.

• Tests included: accelerated life test, voltage, current, temperature and vibration tests, temperature and humidity variations tests, and ongoing reliability test.

• These standards use a series of models for various categories of electronic, electrical and electro-mechanical components to predict steady-state failure rates which environmental conditions, quality levels, electrical stress conditions and various other parameters affect.

• The MTBF of AIS industrial embedded systems have been in the range of 40,000 to 50,000 hours.



About American Industrial Systems, Inc. (AIS)

AIS is a leading global designer and manufacturer of specialty Military Embedded Computing,  Industrial Panel PCs, Rugged Panel Computers, Industrial Monitors, Rugged Displays, Operator Interface Terminals, And Outdoor Digital Signage Display System solutions for customers in the government, aerospace,  defense, building automation, chemical and petrochemical, food and beverage, oil and gas, packaging, pharmaceuticals, pulp and paper, solar power, utilities, water and waste water, and wind power markets. AIS specializes in designing and manufacturing cost-effective LCD and embedded computing products for the industrial market, as well as ODM/OEM applications worldwide. Whether your vision involves off-the-shelf displays or highly customized embedded computing solutions, AIS can supply the experience, technology, and resources needed in building it right and getting you to market first. For additional information on AIS products and services, please call AIS toll-free at 1-888-485-6688 or visit our new website at: www.aispro.com.



Contact

American Industrial Systems, Inc.

Santiago Consunji at 949-681-7463

Santiago.Consunji@aispro.com

More from Non-Industrial Products