COTS Graphics Module supports full stream video capture.
Press Release Summary: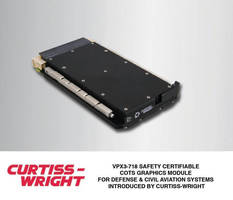 Supporting DO-254 DAL C and DO-178C DAL C safety certifiability, Model VPX3-718 designed for use in military and civil aviation applications. Graphics display and video capture engine is powered by AMD Radeon™ E4690 GPU and provides 1.485 Gbps HD-SDI output to support transfer of uncompressed high-definition video. Module eases and speeds integration of dual independent channels of 2D/3D graphics display into deployed airborne systems that require optimal performance.
---
Original Press Release:

Safety Certifiable COTS Graphics Module for Defense & Civil Aviation Systems Introduced by Curtiss-Wright



New VPX3-718 graphics module supports DO-254 DAL C and DO-178C DAL C Certifiability to speed development while reducing the cost and risk of safety-certifiable aviation systems



ASHBURN, Va. – Curtiss-Wright Corporation (NYSE: CW) today announced that its Defense Solutions division has introduced the VPX3-718, a new rugged commercial-off-the-shelf (COTS) graphics display and video capture engine that supports DO-254 DAL C and DO-178C DAL C safety certifiability. The VPX3-718 graphics module significantly speeds and reduces the cost of developing critical aviation applications on any platform that requires high performance graphics and video processing. Designed for use in military and civil aviation applications, the VPX3-718, along with the VPX3-150 single board computer (SBC), are the first members of Curtiss-Wright's new family of Safety Certifiable COTS Module solutions. These modules feature the standard DO-254/DO-178 design artifact packages required to support successful certification of the customer's system. The VPX3-718 is powered by an AMD Radeon™ E4690 GPU. It is the first Curtiss-Wright graphics module to support full stream video capture and 1.485 Gbps HD-SDI (SMPTE-292M) output to support the transfer of uncompressed high-definition video. It eases and speeds the integration of dual independent channels of 2D/3D graphics display into deployed airborne systems that require optimal performance, even in the most harsh environments.



"Our new family of Safety Certifiable COTS Modules represents our commitment to leading the industry in bringing rugged, safety certifiable COTS system solutions to airborne platforms," said Lynn Bamford, Senior Vice President and General Manager, Defense Solutions division. "The VPX3-718 delivers high performance, cost-effective graphics and video capture supported by comprehensive DO-254 and DO-178 data artifact packages to help our customers get their critical aviation systems fielded sooner."



Comprehensive Safety Certifiable Data Artifact Packages



The VPX3-150 and the other products in the Safety Certifiable COTS Module family are designed using a development process that results in DO-254 and DO-178 Design Assurance Level (DAL) C certifiable product and supporting artifacts.



Examples of documents provided in DO-254 (hardware) data artifact packages include:



•    Plan for Hardware Aspects of Certification including Validation and Verification Plan

•    Top-Level Drawing

•    Hardware Accomplishment Summary

•    Additional Support Documents for Certification available upon request



Examples of documents provided in DO-178C (software) data artifact packages include:



•    Plan for Software Aspects of Certification (PSAC)

•    Quality Assurance Plan (QAP)

•    Software Configuration Management Plan (SCMP)

•    Configuration Management Records



Legacy of Safety Certifiable Experience

The new Safety Certifiable COTS Module family builds on Curtiss-Wright's legacy experience spanning over 25 years as a supplier of safety certifiable electronics to the commercial and defense aviation industry, including the first magnetic data crash recorders, air data modules, data concentrators for avionics upgrades and fully integrated rugged processing subsystems.



Software Support

The VPX3-718 is supported by CoreAVI's OpenGL SC 1.0 driver including integrated support for the video I/O of the VPX3-718, all supported under VxWorks® 653 v2.4.0.1 AMP and for VxWorks 6.9 SMP.  Contact the factory for OpenGL ES 2.0, OpenGL 1.3 and H.264 video decode drivers and for other operating system support.



Sales inquiries: Please forward all Sales and reader service inquiries to Kavita Williams, Curtiss-Wright Defense Solutions, Tel: (661) 705-1142; Fax: (661) 705-1206; email: ds@curtisswright.com.



About Curtiss-Wright Corporation

Curtiss-Wright Corporation (NYSE:CW) is a global innovative company that delivers highly engineered, critical function products and services to the commercial, industrial, defense and energy markets.  Building on the heritage of Glenn Curtiss and the Wright brothers, Curtiss-Wright has a long tradition of providing reliable solutions through trusted customer relationships. The company employs approximately 10,000 people worldwide.  For more information, visit www.curtisswright.com.



Note: All trademarks are property of their respective owners.



John Wranovics

Director of Public Relations

Curtiss-Wright Defense Solutions

jwranovics@curtisswright.com

Mobile: (925) 640-6402

More from Laboratory and Research Supplies and Equipment